IJCRR - 13(16), August, 2021
Pages: 212-214

Date of Publication: 30-Aug-2021
Print Article
Download XML
Download PDF
Arnold Chiari malformation - A Case Study
Author: Aiswarya Lekshmi RV, G Raju, K Chandrakumari
Category: Healthcare
Abstract:Introduction: Arnold Chiari malformations are composite brain irregularities within the posterior cranial fossa where Cerebellum and Spinal cord associate. So herniation of the Cerebellum, Spinal cord and Cerebellar tonsils downwards through the foramen magnum will prevent the continuous flow of cerebrospinal fluid from the brain to the spinal canal which produces a collection of cerebrospinal fluid in subarachnoid space resulting in asymptomatic or fatal signs. Aim: To find out the associated findings in the detected case of Arnold-Chiari malformation. Case Report / Result: Out of Fifty specimens, one case of Arnold-Chiari malformation was reported having some features of Chiari Malformation Type 2. Discussion: Chiari malformation Type 2 is severe than Type 1. Symptoms appear only in childhood. Cerebellar herniation protrudes into the spinal canal producing Hydrocephalus. Chiari malformation type 2 is connected with a form of split spine and Myelomeningocele. Conclusion: One female child was reported with features of Type 2 Arnold Chiari malformation. Congenital anomalies are more observed in mothers of low socioeconomic groups, increasing maternal age and a history of consanguineous marriage.
Keywords: Cerebellum, Cerebellar tonsil, Cerebrospinal fluid, Foramen magnum, Spinal cord, Subarachnoid space
Full Text:
INTRODUCTION
                                              Chiari Malformations were entitled after an Austrian pathologist, Hans Chiari initial point out Type 1-3 (1891). Chiari Malformation Type 2 definition was further expanded by Julius Arnold.1 It is also called as Inborn Tonsillar Herniation, Tonsillar Ectopia or Tonsillar descent. Chiari Malformations are a classed together of composite brain deformities that make a difference to the area in the lower posterior skull. Small posterior fossa may cause herniation of the Brainstem and Cerebellum or Cerebellar Tonsils causing pressure on the Brain causing Hydrocephalus. Patients can be asymptomatic or with potentially debilitating or life-threatening symptoms.2 The classification and diagnosis are done based on the length of the Cerebellar tonsils projecting along with the Foramen magnum in addition to the symptoms produced.
Photo Courtesy:https://commons.wikimedia.org/wiki/
Signs & Symptoms2
                                 Some are Symptomatic while others are Asymptomatic and may have serious manifestations such as the abnormal function of a body area. Particular indications are permitted to take place in distinct distributions that predominantly give back abnormality of the Cerebellum, Brainstem, Spinal cord and lower Cranial nerves. Influenced individuals may not have all of the symptoms discussed below. Associated Symptoms are :
Occipital headache.

Pain in Neck and Shoulders

Coughing, Straining / Sneezing.

Diplopia, Photophobia

Blurred vision, Nystagmus and Sinusitis

Vertigo, Dizziness, Tinnitus and Bilateral hearing impairment.

Coordination disorders

Muscle weakness

Dysphagia, Dysarthria

Palpitation, Syncopal episodes

Tingling / Paresthesias

Sleep apnea and Chronic fatigue syndrome.

Syringomyelia, Hydromyelia

Muscle atrophy

Tingling or prickling / Peripheral neuropathy

Scoliosis

Incontinence

Persistent pain

Tightening or shortening of muscle

Impaired coordination, spasticity
MATERIALS AND METHODS
                                           Duration session of January 2014 to July 2016  a  study  ( SGMC: IEC No.10/95/01/2014/) was managed at Sree Gokulam Medical College & Research Foundation, Thiruvananthapuram about the Foetal anomalies, Ultrasound and Autopsy comparative study. Detailed recording of the history of the patients was obtained in the form of a Proforma and Informed Consent for Autopsy from the Parents were collected. Collected Foetuses and Placenta were obtained ranging from sixteen to twenty weeks of gestation were preserved in 10% formalin which is the fixative used.
OBSERVATION  AND  RESULTS
Arnold Chiari Malformation     
                              Among the Fifty specimens we studied, One case of Arnold Chiari malformation was found out.
Features  of  Foetus  :
                                       A  Female  baby 
 1.  Small Cerebellum.
 2.  Medulla herniated into the Vertebral canal.
 3. Lumbosacral canal has Spinal widening (Spina bifida)
 4. Meningocele
 5.  Dilated Lateral ventricles
 6. Talipes Equino Varus (TEV) of both limbs.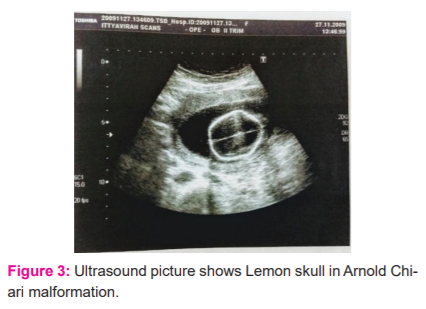 DISCUSSION
TYPES OF CHIARI MALFORMATION2,3
TYPE  0
                         Minimal or Absence of herniation of Cerebellar tonsils through Foramen magnum occur in some individuals whereas Syringomyelia, Absence of herniation of Cerebellar tonsil, Occipital headache occur among other individuals.
TYPE 1
                     May not source some indication, frequently not acknowledged as valuable before mature. Not connected to some other neurological deformities, be able to source neurological indications because of being compressed of the Brain stem and Spinal cord.
TYPE 2
                       Severe than type 1. Symptoms appear only in childhood. Disorganization can happen in the future cause serious, potentially fatal difficulties during early childhood/period of being a child. Cerebellar herniation protrudes into the Spinal canal producing Hydrocephalus. Vomiting, Irritability, Seizures, delay developmental milestones are usually seen.
Chiari malformation type 2 connected with a form of Split spine/Spina bifida presenting with Myelomeningocele. Producing insufficiency of Urinary and Bowel incontinence.
TYPE 3
                        Rare, more severe connected with Encephalocele. Affected individuals have some symptoms connected with Chiari malformation Type 2.
TYPE 4
                         Not connected with herniation of brain continuously Foramen magnum. Brain underdeveloped (Hypoplastic) or fails to develop (Aplastic). The most severe form usually causing death during early childhood; because the absence of herniation of the Cerebellar tonsil is not considered a typical Chiari malformation.
Incidence :
                   Females are affected more than Males.
Related  Disorders :
                   Vague comprise of  Multiple sclerosis, Myalgic encephalomyelitis, Fibrositis and Spinal cord tumours.
CONCLUSION
                                 Out of Fifty specimens of Medical Termination of Pregnancy 6 to 20 weeks – Male and Female foetuses, both Ultrasound Imaging andconfirmed by Autopsy was done and One case of Arnold Chiari malformation was reported having some features of Chiari Malformation Type 2. Congenital anomalies are observed more in Low Socioeconomic group mother's, Increase in Maternal age with a History of Consanguineous marriage.
Conflicts of  interest
                                 All authors have none to declare.
Financial support and sponsorship
                                 No funding to declare. 
Acknowledgements
                                 We acknowledge the contribution of Dr. Alex. K. Ittyavirah, Radiologist and Ultrasonologist, Ittyavirah Scan and Research Centre, Thiruvananthapuram and the faculties of the department of Anatomy. 
References:
[1] Pakzaban P. Chiari malformation. E Med J. Updated: Feb 4, 2014. Available at: http://emedicine.medscape.com/article/1483583-overview. [last accessed on 2020, December 17]
[2] National Institute of Neurological Disorders and Stroke. Chiari Malformation Fact Sheet. Last updated December 30, 2013.Available at: http://www.ninds.nih.gov/disorders/chiari/detail_chiari.htm [last accessed on 2020, December 17]
[3] Mayo Clinic for Medical Education and Research. Chiari malformation. Aug.21, 2013. Available at: http://www.mayoclinic.com/health/chiari-malformation/DS00839 [last accessed on 2020, December 17]
[4] Mutchnick IS, Janjua RM, Moeller K, Moriarty TM. Decompression of Chiari malformation with and without duraplasty: morbidity versus recurrence. J Neurosurg Pediatr. 2010;5:474-478. http://www.ncbi.nlm.nih.gov/pubmed/20433261
[5] Galarza M, Lopez-Guerrero AL, Martinez-Lage JF. Posterior fossa arachnoid cysts and cerebellar tonsillar descent: a short review. Neurosurg Rev.2010;33:305-314. http://www.ncbi.nlm.nih.gov/pubmed/20480382
[6] Aghakhani N, Parker F, David P. Long-term follow-up of Chiari-related syringomyelia in adults: analysis of 157 surgically treated cases. Neurosurgery.2009;64:308-315. http://www.ncbi.nlm.nih.gov/pubmed/19190458
[7] Attenello FJ, McGirt MJ, Gathinji M. Outcome of Chiari-associated syringomyelia after hindbrain decompression in children: analysis of 49 consecutive cases.Neurosurgery.2008;62:1307-1313. http://www.ncbi.nlm.nih.gov/pubmed/18824997
[8] Dauvilliers Y, Stal V, Abril B. Chiari malformations and sleep-related breathing disorders. J Neurol Neurosurg Psychiatry.2007;78:1344-1348. http://www.ncbi.nlm.nih.gov/pubmed/17400590
[9] Szewka AJ, Walsh LE, Boaz JC, Carvalho KS, Golomb MR. Chiari in the family: Inheritance of the Chiari I malformation. Pediatr Neurol. 2006;34:481-485. http://www.ncbi.nlm.nih.gov/pubmed/16765829
[10]StevensonKL.ChiariTypeIImalformation:past,presentandfuture.NeurosurgFocus.2004;16:1-7. http://thejns.org/doi/pdf/10.3171/foc.2004.16.2.6
[11] Greenlee JDW, Donovan KA, Hasan DM, Menezes AH. Chiari I Malformation in the very young child: the spectrum of presentations and experience in 31 children under age 6 years. Pediatrics.2002;110:1212-1219. http://pediatrics.aappublications.org/content/110/6/1212.full.pdf