IJCRR - 13(12), June, 2021
Pages: 202-209

Date of Publication: 22-Jun-2021
Print Article
Download XML
Download PDF
Histopathological Analysis and Comparison of Synovitis in Rheumatoid Arthritis and Osteoarthritis Patients in a Tertiary Care Centre
Author: Ujjvala Kalluri, Nellaiyappan Balasubramanian, Arumugam Vasugi, Divya Dhanabal, Leena Dennis Joseph, Subalakshmi Balasubramanian
Category: Healthcare
Abstract:Introduction: Rheumatoid Arthritis (RA) is a chronic inflammatory disease principally involving the joints, which is autoimmune. However, osteoarthritis is a degenerative disorder commonly affecting large joints. They not only differ clinically but histologically as well. This study entails the comparison and grading of histopathological features of synovial biopsies of patients suffering from these diseases using a pre-established grading system. Aims: To Compare and analyse histopathological features of synovial biopsies of patients suffering from Rheumatoid Arthritis and osteoarthritis. Methodology: 31 synovial biopsy specimens each, of rheumatoid arthritis and osteoarthritis respectively, were reviewed from the institute's case files. The histopathological features were analyzed and a diagnostic criterion was set using a grading system involving seven histological features to differentiate the same. Results: It was observed that all the RA specimens scored a total score of 11 or more. Whereas, out of the 31 OA specimens, all had scored less than 11 points. Conclusion: It was established that a total score of 11 points (maximum 20 points) for RA synovitis biopsies can confirm a histopological diagnosis of RA synovitis. This analysis helped better the understanding of histopathology and compare the histologic variation present in synovial membrane tissue in patients suffering from rheumatoid arthritis and osteoarthritis.
Keywords: Rheumatoid arthritis, Osteoarthritis, Synovial fluid, Histopathology
Full Text:
INTRODUCTION:
Rheumatoid Arthritis is a chronic inflammatory autoimmune disorder principally involving the joints. It causes a nonsuppurative inflammation of the synovial membrane or synovitis. The inflammation progresses to destroy the articular cartilage and underlying bone resulting in disabling arthritis.
A proper medical history is essential for the diagnosis of rheumatoid arthritis. Blood tests are done to check for antibodies specific for rheumatoid arthritis that include 1) anti-cyclic citrullinated peptide antibodies or anti-CCP antibodies, 2) rheumatoid factor (RF). RF is a sensitive but not a specific antibody for RA as it is also found in other autoimmune disorders. The presence of RF helps to reach a differential diagnosis of RA but it does not confirm it.1 However, the anti-CCP antibody is a strong indicator of RA and has more specificity than RF.2In a large cohort of patients suffering from early stages of RA with a mean symptom duration of 7 months the anti-CCP2 antibody test had helped to differentiate RA patients from those without the disease at a specificity of 91% and sensitivity of 81%.3
 A high erythrocyte sedimentation rate and C-reactive protein levels are suggestive of the acute phase response of RA. Radiological imaging studies help to assess the severity of the disease.
One of the investigative methods done to diagnose RA in a patient is the synovial biopsy, where the synovial tissue is biopsied from the involved joint and studied to scrutinise the histopathological features.1A recent study done by performing synovial fluid analyses for 60 patients having joint pathogenesis revealed that rheumatoid arthritis (19%) was the most common aetiology.4 These biopsies have the potential to distinguish RA from other forms of arthritis.5
The synovial membrane contains synoviocytes that are metabolically active cells. They play an excretory role by removing the products of matrix degradation and provide nutrients to the cartilaginous cells through the synovial fluid. During the process of synovitis, they multiply in numbers resulting in hyperplasia.6The synovial membrane also exhibits angiogenesis, infiltration of inflammatory mediators including different types of leukocytes, inhibitors of proteases and cytokines. Tissue oedema and deposition of fibrinogen exudates are then replaced by infiltrates of monocytes and lymphocytes. These cells release metalloproteinases that cause pannus formation and infiltration of cartilage by synoviocytes.7,8
On the other hand, osteoarthritis can be diagnosed clinically but a synovial biopsy would confirm the diagnosis and also rule out other causes of joint pain like RA.9Studies have disproved the orthodox views of osteoarthritis being a degenerative disease of only the cartilage. It is proven that synovial inflammation plays a significant role in the pathogenesis ofosteoarthritis.10,11Despite this synovitis, osteoarthritis is clas­sified as a noninflammatory disorder since a certain threshold level of leukocytosis is required for the disease to be classified under inflammatory disorders (2,000 cells per mm3) which is not satisfied by osteoarthritis.6 The histological change that occurs in osteoarthritis include synovial cell hyperplasia as seen as an increase in the number of synovial lining cells which is often accompanied by mononuclear cell infiltration.12This study helped to form a comparison between RA and osteoarthritis based on their inflammatory changes along with other histopathological findings.
MATERIAL AND METHODS:
A retrospective study was done at Sri Ramachandra Institute of Higher Education and Research after obtaining informed consent from the Institutional Ethical Committee of the same institute. The period of study was of three years, spanning from 2015 to 2017. 31 synovial biopsy specimens each, of rheumatoid arthritis and osteoarthritis respectively, were collected from the pathology case files. The tissue specimens were fixed in 10% formalin and embedded in paraffin. Serial tissue sections of each specimen were prepared. Sections were stained with hematoxylin and eosin (HE). They were microscopically reviewed for analyzing histopathological features and a diagnostic criterion was set using a grading system involving seven characteristic histological features. They were given a score of 1–3 points each, to evaluate the histological severity of the seven parameters. The total scores were then calculated and compared.
HISTOLOGICAL PARAMETERS
There were seven histopathological features chosen to compare. They included the following:
a) degree of proliferation of synovial cells
b) palisading of synovial cells
c) synovial giant cells
d) inflammatory cell infiltration
e) neo-vascularisation
f) synovial granulation tissue
g) synovial fibrin
h) synovial hemosiderosis.13
a) The degree of synovial hyperplasia was graded based on the number of layers of synovial cells. It was expressed as slight (three to four layers), moderate (five to seven layers) and marked (more than seven layers).
b) The synovial cell proliferation was subsequently classified as typical with the conventional radial arrangement of cylindrical synovial cells, or atypical (Figure 1) with the obscure arrangement of synovial cells.
c) The inflammatory infiltrate was categorised into three subtypes: (i) lymphocytic aggregation (Figure 2), (ii) formation of lymphoid follicle (Figure 3), (iii) formation of germinal centre (Figure 4).
d) The plasma cells (Figure 5) were graded subjectively into slight, moderate and marked depending on their severity. An abundance of up to 25% was marked as slight, between 25-50% as moderate and more than 50% as severe.
e) Granulation tissue (Figure 8) was characterised by newly formed thin-walled capillaries and proliferating fibroblasts. It was graded into slight, moderate or marked and given a score of 1,2 or 3 respectively. An abundance of up to 25% was marked as slight, between 25-50% as moderate and more than 50% as severe.
f) If giant cells were not seen, a score of 0 was given. A score of 1 was allotted for foreign body type giant cells (Figure 6) and a score of 2 for non-foreign body type giant cells (Figure 7).
g) Synovial fibrin (Figure 8) was characterised by polymerised fibrin deposits or fibrinoid necrosis. It was visualised by staining with Masson's trichome stain which was highlighted by red colour. It was graded based on its presence or absence. A score of 2 was given for its presence.
h) Synovial hemosiderosis (Figure 9) was positive for Perls' stain. A score of 2 was given for its presence.
RESULTS:
Histopathological features were analysed and moderate to marked synovial hyperplasia was seen in 74.2% of RA synovitis compared to 64.5% of osteoarthritis synovitis (Table II).
In palisading of synovial cells, the typical radial arrangement was seen in 10 of the RA synovitis biopsies and scarcely in 2 of the osteoarthritis specimens. A haphazard synovial arrangement or atypical arrangement was significantly more prevalent in osteoarthritis (93.5%) than RA specimens (Table II).
Giant cells were given points of 1 or 2 depending on whether they were foreign body or non-foreign body type respectively. In particular, foreign body type was observed more in RA synovitis cases than in osteoarthritis cases (Table II). In one of the RA cases that were associated with a clinical diagnosis of tuberculosis and the patient tested positive for acid-fast bacilli staining, a characteristic granuloma containing Langhans giant cells was microscopically noted (Figure 7).
                      There were varied differences between the two types of specimens concerning inflammatory cell infiltrate. Most of the osteoarthritis synovitis specimens (27 out of 31) were observed to have aggregates of lymphocytes, i.e, lymphocytic accumulation. Lymphoid follicles were formed in 54.8% of the RA cases whereas germinal centres were present in 22.5% of them. On the other hand, lymphoid follicles were seen in only 4 of the osteoarthritis biopsies and germinal centres were observed in none (Table II).
                                   On average, plasma cells were more abundant in RA than osteoarthritis. 90.3% of RA synovitis had moderate to marked plasma cells. Whereas, in a majority of osteoarthritis synovitis (27 out of 31 specimens), a slight degree of plasma cells was noted (Table II).
Granulation tissue was moderate to marked in almost 84% of RA while it was scarce in osteoarthritis. Only 12 out of the 31 osteoarthritis specimens showed moderate granulation tissue formation (Table II). Neovascularisation with frequent periarteriolar fibrosis is generally considered to be the distinct histopathological feature of RA synovitis.
                           Fibrin deposition was present in 80.6% of RA synovitis specimens and in 16% of osteoarthritis cases (Table II).
                         Synovial hemosiderosis was seen in almost half of RA whereas a majority of the osteoarthritis specimens (29 out of 31) lacked the hemosiderin pigment (Table II).
Comparing and calculating the histological features a total score of 11 or more was seen in Rheumatoid arthritis. Whereas, out of the 31 osteoarthritis specimens, all had scored less than 11 points (Table III).
             All the RA specimens had scores between 11 and 15 and none above 15. Points between 6 and 10 were scored by 77% of the osteoarthritis cases and the rest had scores between 0 and 5. When compared, on average, all RA synovitis had higher scores than the osteoarthritis synovitis (Table III).
                     From the results, it was concluded that in the histological examination of the biopsied synovial tissue of RA, if the total score for synovitis is more than 11 points (maximum 20 points), a histological diagnosis of RA synovitis can be con?rmed (Table III).
DISCUSSION:
The inflammatory response of the synovial membrane is more dependent on local disease activity than on the duration or chronicity of the disease.
There is histopathological evidence that there is an increased maximal synovial cell lining thickness in advanced stages of RA compared to that of early stages of RA, whereas the mean lining thickness of both did not differ.14However, the inflammatory changes and progression of bone destruction are more remarkable in the early stages of RA.15In a study on biopsy specimens of early rheumatoid arthritis patients, it was observed that a proportion of the biopsied synovium showed only angiogenesis without either lining cell proliferation or mononuclear cell infiltration, suggesting that angiogenesis may precede any other features, such as lining cell proliferation and cellular infiltration in early RA.16
The histological changes of osteoarthritis are seen in patients suffering from osteoarthritis of all grades but the most marked changes occur in the advanced stages.17There are no conspicuous differences in the microscopic findings of synovial biopsies taken from large and small joints. Although there is statistical evidence of resemblance in the quantitative abundance of macrophages, T cells, and plasma cells between the knee joint and the small joints.18
In the past few years, medical advances in developing artificial joints have led to an increased number of patients suffering from rheumatoid arthritis undergoing therapy for the replacement of arthritic joints. There has also been an increase in the needle and arthroscopic biopsy samples collected from patients with RA. This has provided pathologists with more opportunities to examine the specimens by molecular and immunohistochemical techniques to gain a better understanding of the pathogenic events in this disease. In addition, synovial biopsies are being used to assess the effects of medical interventions on the production of cytokines, enzymes responsible for joint destruction, adhesion molecules, and other inflammatory mediators.
This scoring system can be used for RA cases with an earlier stage, thus it is considered to be highly useful in diagnosing early-stage RA synovitis as well.13
CONCLUSION:
This analysis helped better the understanding of histopathology and analyze the histologic variation present in the synovial membrane tissue in patients suffering from rheumatoid arthritis and osteoarthritis.
Hence, the usage of a scoring system will be helpful for early diagnosis and better treatment.
ACKNOWLEDGEMENT: Authors acknowledge the immense help received from the scholars whose articles are cited and included in references of this manuscript. The authors are also grateful to authors / editors / publishers of all those articles,journals and books from where the literature for this article has been reviewed and discussed.
CONFLICT OF INTEREST: No potential conflict of interest relevant to this article was reported.
SOURCE OF FUNDING:No funding sources.
AUTHOR'S CONTRIBUTION:
Ujjvala Kalluri: Data analysis, specimen retrieval, manuscript preparation
Nellaiyappan Balasubramanian: Clinical and data analysis
ArumugamVasugi: Histopathological analysis
Divya Dhanabal: Histopathological analysis
Leena Dennis Joseph: Data analysis
Subalakshmi Balasubramanian: Histopathological analysis, data analysis, manuscript reviewal
Table I enumerates the histopathological features used to grade the specimens of osteoarthritis and rheumatoid arthritis and the scores given to them according to their severity or abundance.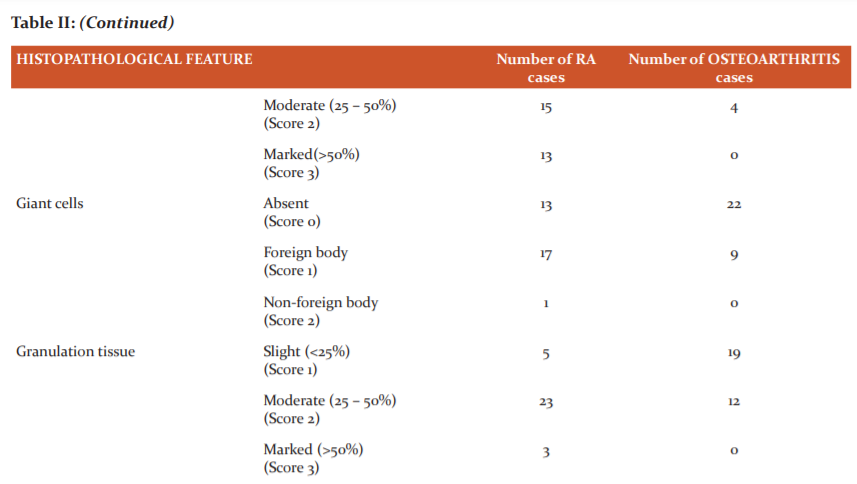 Table II enumerates the degree of proliferation of synovial cells, differentiates typical and atypical palisading of synovial cells, differentiates based on the type of inflammatory infiltration, enumerates the severity of abundance of plasma cells, differentiates based on the presence and the type of giant cells, enumerates the degree of granulation tissue, differentiates based on the presence or absence of fibrin, differentiates based on the presence or absence of hemosiderosis in the specimens of osteoarthritis and rheumatoid arthritis and scores them accordingly.
Table III enumerates the total number of specimens of osteoarthritis and rheumatoid arthritis with their respective scores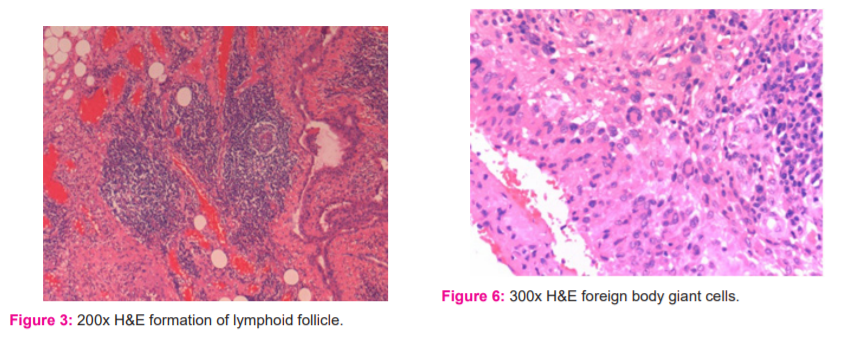 References:
1.Heidari B. Rheumatoid Arthritis: Early diagnosis and treatment outcomes. Caspian Journal of internal medicine. 2011;2(1):161.
2. Heidari B, Lotfi Z, Firouzjahi AR, Heidari P. Comparing the diagnostic value of anti-cyclic citrullinated peptide antibody and rheumatoid factor for rheumatoid arthritis. Res med 2010; 33 (3):156–61.
3. Quinn MA, Gough AK, Green MJ, Devlin J, Hensor EM, Greenstein A, et al. Anti-CCP antibodies measured at disease onset help identify seronegative rheumatoid arthritis and predict radiological and functional outcome. Rheum. 2006 Apr 1;45(4):478-80.
4. Karthikeyan, M. Sridevi. Synovial fluid analysis - a retrospective study in a tertiary care centre. Int J Curr Res Rev. 2019;11(17):147-149.
5.Gerlag DM, Tak PP. How to perform and analyse synovial biopsies. Best Pract Res Clin Rheum. 2013 Apr 1;27(2):195-207.
6.Dougados M. Synovial fluid cell analysis. Bailli Clin Rheum. 1996 Aug 1;10(3):519-34.
7. Rooney M, Condell D, Quinlan W, Daly L, Whelan A, Feighery C, et al. Analysis of the histologic variation of synovitis in rheumatoid arthritis. Arth Rheum: Off J Amer Coll Rheum. 1988 Aug;31(8):956-63.
8. Dabiri S, Najafipour H, Niazmand S, Tabrizchi H. Histopathological changes of the antigen-induced chronic arthritis in the knee joint of the rabbit. Iranian Journal of Pathology. 2006 Apr 1;1(2):49-54.
9. Manek NJ, Lane NE. Osteoarthritis: current concepts in diagnosis and management. Amer Fam Phys. 2000 Mar 15;61(6):1795-804.
10. Sellam J, Berenbaum F. The role of synovitis in pathophysiology and clinical symptoms of osteoarthritis. Nat Rev Rheum. 2010 Nov;6(11):625.
11. De Lange-Brokaar BJ, Ioan-Facsinay A, Van Osch GJ, Zuurmond AM, Schooners J, Toes RE, Huizinga TW, Kloppenburg M. Synovial inflammation, immune cells and their cytokines in osteoarthritis: a review. Osteoar Cart. 2012 Dec 1;20(12):1484-99.
12. Myers SL, Brandt KD, Ehlich JW, Braunstein EM, Shelbourne KD, Heck DA, et al. Synovial inflammation in patients with early osteoarthritis of the knee. J Rheum. 1990 Dec;17(12):1662.
13. Koizumi F, Matsuno H, Wakaki K, Ishii Y, Kurashige Y, Nakamura H. Synovitis in rheumatoid arthritis: scoring of characteristic histopathological features. Path Intern. 1999 Apr;49(4):298-304.
14. Baeten D, Demetter P, Cuvelier C, Van den Bosch F, Kruithof E, Van Damme N, et al. Comparative study of the synovial histology in rheumatoid arthritis, spondyloarthropathy, and osteoarthritis: influence of disease duration and activity. Annal Rheum Dis. 2000 Dec 1;59(12):945-53.
15. Tak PP, Smeets TJ, Daha MR, Kluin PM, Meijers KA, Brand R, et al. Analysis of the synovial cell infiltrate in early rheumatoid synovial tissue about local disease activity. Arthritis & Rheumatism: Off J Ame Coll Rheum. 1997 Feb;40(2):217-25.
16.Hirohata S, Sakakibara J. Synovial histopathology in early rheumatoid arthritis. J Arth Res Ther. 1999; 1(S1): S38.
17. Smith MD, Triantafillou S, Parker A, Youssef PP, Coleman M. Synovial membrane inflammation and cytokine production in patients with early osteoarthritis. J Rheum. 1997 Feb;24(2):365-71.
18. Kraan MC, Reece RJ, Smeets TJ, Veale DJ, Emery P, Tak PP. Comparison of synovial tissues from the knee joints and the small joints of rheumatoid arthritis patients: Implications for pathogenesis and evaluation of treatment. Arth Rheum. 2002 Aug;46(8):2034-8.