IJCRR - 13(2), January, 2021
Pages: 18-25

Date of Publication: 16-Jan-2021
Print Article
Download XML
Download PDF
Fabrication and Evaluation of Mini Tablet Filled Capsules for the Prevention of Post Bypass Surgery Heart Stroke
Author: S.B. Thirumalesh Naik, M. Purushothaman, K.B. Chandrasekhar
Category: Healthcare
Abstract:Objective: The work aimed at making mini-tablets filled capsules for the prevention of post bypass surgery heart stroke using Atorvastatin (ATN), and Acetyl Salicylic Acid (ASA). Methods: The mini-tablets (MTs) of ATN were uncoated, and ASA was enteric-coated. A novel approach was adopted in tackling gastric irritation of ASA, by using Plantago ovata seed mucilage as a binder in making the MTs. MTs of ATN and ASA were placed in capsules. ATN and ASA compatibility with excipients used were checked by DSC and FTIR studies. All prepared MTs were prosecuted for post-compression constraints. Results: The prepared MTs confirmed no interaction by FTIR and DSC studies. All the MTs passed the physicochemical constraints. ATN was released within 60 min, whereas enteric-coated ASA, showed its resistance to release in an acidic environment (2h) and favour in an alkaline buffer (within 45 min). Conclusion: The study concludes that by using P. ovata as a binder in making tablets will resolve the issues related to gastric irritation.
Keywords: Mini-tablets, Atorvastatin, Plantago ovata, Gastric irritation
Full Text:
INTRODUCTION
Many fixed-dose combination therapies prescribed to tackle heart stroke after bypass surgery, among them Atorvastatin (ATN) and Acetyl Salicylic Acid (ASA) combination is a popular choice.1 ATN is an HMG-CoA reductase inhibitor that slows down cholesterol manufacture in the body, and in term prevents its accumulation in blood capillaries, majorly the vital organs like the heart and the brain.2 Additionally, ATN reduces low-density lipoproteins and Cholesterol and in term increases high-density lipoproteins.3 ASA has anti-platelet action at a lower dose and popularly prescribed for preventing recurrent development of blood clots.4
Longterm therapy of ASA, causes stomach ulcers5 that can be prevented by co-administration of proton pump inhibitors (PPIs). But many clinical studies revealed that ATN and ASA interact with PPIs.6,7 Mini-tablets (MTs) are tiny tablets which are uniform in shapes, sizes, and weights. Wide varieties of MTs can be easily filled in capsules for attaining the anticipated effects.8 They are desired to owe their uniformity in drug, sizes, ease of preparation, and low cost equated to pellets and granules.9 A few attempts were made by giving PPTs for patients with ATN and ASA therapy but raised the issues related to drug compatibilities.10,11 So, a need came to resolve such issues, the authors made an innovative effort to add some gastroprotective excipients during formulation. By doing an extensive literature survey the authors found Plantago ovatamucilage has gastric protective activity12, 13 and tablet binder properties.14, 15
In this investigation, the authors used P. ovata seed mucilage as a binder during tablet granulation, and compressed them to MTs (uncoated ATN and enteric-coated ASA), and filled into capsules.
MATERIALS AND METHODS
Materials
Atorvastatin was gifted from USV Pvt. Ltd, Mumbai, Acetylsalicylic acid from Waksman Selman pharmaceutical Pvt ltd Anantapur, AP, India. Lactose, MCC, Magnesium stearate, Talc, Ethylcellulose, and HPMC Phthalate were purchased from Qualigens, Fine chemicals, Mumbai. Empty hard gelatin capsules (size '1') were gifted from Hetero drugs, Hyderabad, Telangana. The remaining ingredients used were of AR grade.
Preformulations Investigations
Fourier Transform Infrared (FTIR) spectral analysis
The matching of ATN and ASA with excipients used in this study was done with a sample (2 mg) mixed with 200 mg of KBr, compressed to pellet, and scanned (400-4000cm-1) with a resolution of 1cm-1 (Perkin Elmer, Spectrum-100, Japan).
DSC studies
DSC thermograms of ATN, and ASA; and their mixture with excipients were documented using Diffraction scanning calorimeter (DSC 60, Shimadzu, Japan), by heating (30-350oC) with 10oC/min rate.
Experimental Methods
Isolation of P. Ovata seeds mucilage
The P. Ovata seeds were drenched in distilled water (~20 times) for 48 h, boiled for 10 min (for the discharge of mucilage). Later passed through a muslin cloth (marc removed) and the filtrate was collected. Acetone was added in equal proportion (mucilage precipitates). Then the mucilage was detached and dried in an oven (<60ºC), crushed, sieved (# 80 mesh), weighed, and stored in a desiccator.16,17
Preparation of mini-tablets
Preparation of Atorvastatin MTs
The ingredients (Table 1) screened (#40 mesh), and mix for 3 min. To this blend magnesium stearate and talc (screened #60) were added and mixed in the polybag for 3 min. The blend was compressed to get MTs.18
Preparation of ASA enteric-coated MTs
The enteric-coated tablets for delayed-release have these steps.19,20
Preparation of core tablet
The ingredients (Table 2) screened (#40 mesh), and adopted the same method of how ATN MTs were prepared.
Sub coating of ASA
The core tablets so formed were made water-proof by sub coating (Table 3).
Enteric coat composition
The waterproofed subcoated tablets were subjected to gastric resistant enteric coating (Table 4).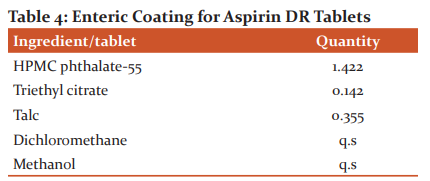 Filling of mini-tablets in capsule
Three MTs each of ATN, and ASA were filled manually into capsule bodies and closed with a cap, and coded (Table 5). The junction between the capsule body and cap was sealed by applying water with a micro brush.21,22

Evaluation of Mini-Tablets
Pre-compression parameters
Bulk and tapped densities, Carr's index, Hausner's ratio, and angle of repose were appraised for the blend of MTs.23, 24 
Post-compression parameters
Parameters like thickness, hardness, weight variation, friability, etc. were appraised for the prepared MTs.25,26 
Weight variation of mini-tablets
The weight of 20 MTs was individually weighed (MODELS, CAS-54), and the mean was calculated and the deviation was calculated.
Diameter and thickness for mini-tablets
10 randomly selected MTs from each batch were logged with a Vernier calliper, and mean was documented.
Mini-tablet crushing strength/ hardness test
Crushing strength of the 6 MTs individually measured using the Pfizer tablet hardness tester (mLabs-SE-276(B). Each MT is individually placed between the jaws and pressed till it crushes, and the mean was recorded.
Friability test for mini-tablets
Ten MTs of ATN were placed in a Friability tester (Veego. VFT-2D) and rotated at 25 rpm for a total of 100 rotations. The loss on friability can be obtained from the initial and final weights of MTs. On the other hand, this test is not required for MTs of ASA (as they are enteric-coated).
Disintegration test
The uncoated 6 MTs of ATN were kept in disintegration apparatus (0.1M HCl) at 37±2.0oC and the time for the breakdown was noted down.27 Moreover, the enteric-coated MTs of ASA the same procedure was followed, after 2h, the medium was replaced by 6.8 pH, PBS for 30 min.28
Uniformity of drug content
10 MTs of ATN were weighed and powdered. A quantity of 75 mg of ATN was dissolved in 0.1 N HCl (100 ml). Then the solution was filtered, diluted suitably29 and analyzed using UV/visible spectrophotometer at 230 nm. For ASA, 10 MTs of ASA were weighed, triturated in a mortar. A 100 mg of ASA was transferred to a 50 ml volumetric flask, diluted by 20 ml of diluting solution (acetonitrile and formic acid 99:1). The volumetric flask was shaken manually, centrifuged at 3000 rpm for 5 min and then the stock prepared was diluted.  An aliquot of the diluted solution was inserted into a liquid chromatograph with a detector set at 230 nm. The responses were compared with the standard to find the quantity in mg of ASA present in the sample.30 Table 6 shows the chromatographic settings for ATN and ASA estimation.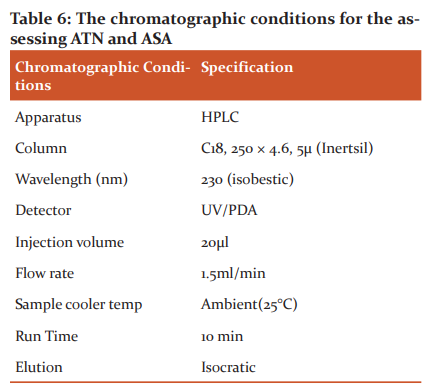 In-vitro Dissolution Studies
The dissolution conditions for ATN as explained31 (Table 9).
Kinetic treatment of the dissolution data
The dissolution data were further treated to find the best fit kinetic model and to know the possible release pattern31.
RESULTS AND DISCUSSION
                                              The thermogram of ATN showed an endothermic peak at 160.02oC, and it combined with excipient showed a shift in thermogram was observed with a peak of 156.41oC (Figure 1). Whereas the thermogram of ASA showed an endothermic peak at 134.18oC, and it combined with excipient showed a shift in thermogram was observed with a peak of 123.88oC (Figure 2). This data confirms the impregnation of drugs with excipients used.
DSC studies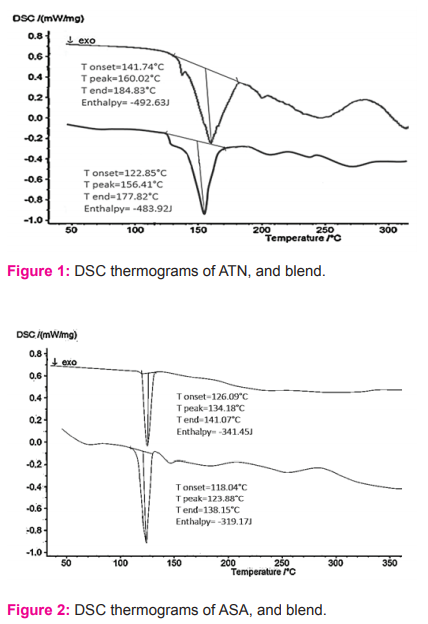 The FTIR spectra revealed that the characteristic peaks and stretches of ATN were found even in the blend, indicates compatibility confirmations of ATN with excipients (Figure 3). Similarly, the peaks and stretches of the ASA spectrum were found even in the blend (Figure 4), indicates compatibility confirmations of ASA with excipients.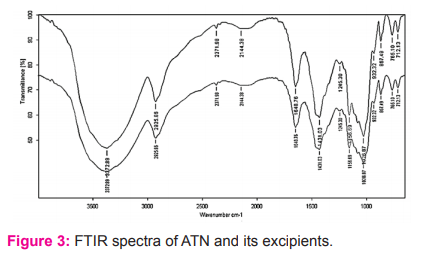 The ATN blend showed an angle of repose, Carr's compressibility index, and Hausner ratio values less than 30°, 10%, and 1.25 respectively, which indicates the good flow properties (Table 10), similarly, ASA blend was also proved its good flow properties (Table 11).
The MTs were subjected to various parameter assessments viz., Uniformity of weight, hardness, thickness, friability, and assay. The outcomes of these strictures exhibited nearly uniform thickness in all the formulations. The weights of all MTs within the ±7.5% (standard value for tablets weight ranged 80-250mg) and passed the uniformity of weight as per official requests. All the tablets showed sufficient strength or hardness (>4Kg/cm2), representing physical strength for which required during handling & transport. The hardness is not an absolute gauge of strength, so friability was also performed and the loss on friability was <1% for all MTs (acceptable limit). The conventional uncoated MTs of ATN were disintegrated within 15 min (900 sec), whereas the enteric-coated MTs of ASA did not show any sign of disintegration in 0.1 M HCl for 2h, and disintegrated within 45 min (2700 sec) in pH 6.8 buffer, which proves the enteric coating efficiency of ASA enteric-coated MTs.
An appreciable uniformity in ATN and ASA content were observed among different batches of MTs and the % of drug content was more than 95% (Table 12 and 13).
More than 75% of ATN was released within 60 min (uncoated) (Figure 5). On the other hand, the enteric-coated MTs of ASA were not shown any sign of dissolution in 0.1 M HCl for 2h and >75% dissolved within 45 min in pH 6.8 buffer (Figure 6), which reveals the firmness of the enteric coat on MTs of ASA.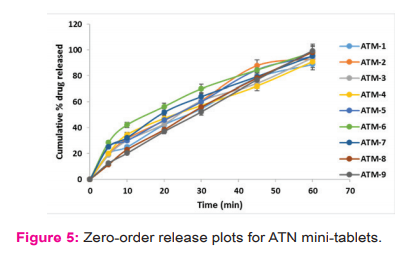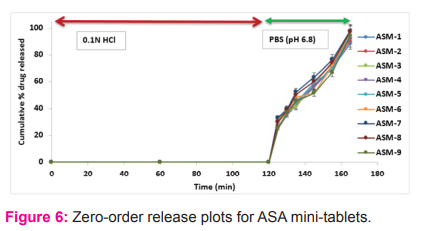 The mechanism of drug release from the formulations when tried to fit Zero order, First order, Higuchi, Korsmeyer Peppa's, and Hixon Crowell's plots. The regression and interpretation of release exponent value (n) were assessed and graphically represented in Figures 7 (A, B, C, and D) and 8 (A, B, C, and D). Based on these dates, it was confirmed Higuchi's model is best fit and the release was non-fiction for all ATN MTs, whereas for ASA formulations i.e., ASM-4, ASM-5, ASM-6, and ASM-7 followed fiction and remaining ASA formulations followed non-fiction release.
CONCLUSION
The distinct mini-tablets of uncoated Atorvastatin and enteric-coated Acetyl Salicylic Acid were effectively made, filled in capsules, and recapped. The gastric irritation caused by Acetylsalicylic acid is encountered with the addition of Plantago ovata seed mucilage as a tablet binder (as it already proved for its gastric protective actions). Thus, mini-tablets filled capsules of Atorvastatin and Acetyl Salicylic Acid for treating post bypass surgery heart stroke, without any gastric irritation.
ACKNOWLEDGEMENTS: The authors are thankful to USV Pvt. Ltd, Mumbai, and Waksman Selman pharmaceutical Pvt. Ltd, for providing gift sample of pure drug.
Funding: Not Applicable
Conflicts of Interests: All the authors declare that they have no conflicting interests
References:
Varon J, Acosta P, Varon J. Handbook of critical and intensive care medicine. New York: Springer; 2010.

Stern RH, Yang BB, Hounslow NJ, MacMahon M, Abel RB, Olson SC. Pharmacodynamics and pharmacokinetic?pharmacodynamic relationships of atorvastatin, an HMG?CoA reductase inhibitor. J Clin Pharma 2000; 40(6):616-623.

Norata GD, Pirillo A, Ammirati E, Catapano AL. The emerging role of high-density lipoproteins as a player in the immune system. Atherosclerosis 2012; 220(1):11-21.

Violi F, Calvieri C, Ferro D, Pignatelli P. Statins as antithrombotic drugs. Circulation 2013;127(2):251-257.

El-Hajj II, Mourad FH, Shabb NS, Barada KA. Atorvastatin-induced severe gastric ulceration: a case report. W J Gastroenterol 2005;11(20):3159.

Lau WC, Waskell LA, Watkins PB, Neer CJ, Horowitz K, Hopp AS, et al. Atorvastatin reduces the ability of clopidogrel to inhibit platelet aggregation: a new drug-drug interaction. Circulation 2003;107(1):32-37.

Marusic S, Lisicic A, Horvatic I, Bacic-Varca V, Bozena N. Atorvastatin-related rhabdomyolysis and acute renal failure in a genetically predisposed patient with potential drug-drug interaction. Int J Clin Pharm 2012;34(6):825-82

Lopes CM, Lobo JM, Pinto JF, Costa P. Compressed mini-tablets as a biphasic delivery system. Int J Pharm 2006;323(1-2):93-100.

Mitra B, Chang J, Wu SJ, Wolfe CN, Ternik RL, Gunter TZ, Victor MC. Feasibility of mini-tablets as a flexible drug delivery tool. Int J Pharm 2017;525(1):149-15

Saw J, Steinhubl SR, Berger PB, Kereiakes DJ, Serebruany VL, Brennan D, et al. Lack of adverse clopidogrel–atorvastatin clinical interaction from a secondary analysis of a randomized, placebo-controlled clopidogrel trial. Circulation 2003 Aug 26; 108(8):921-4.

Cuisset T, Frere C, Quilici J, Poyet R, Gaborit B, Bali L, et al. Comparison of omeprazole and pantoprazole influence on a high 150-mg clopidogrel maintenance dose: the PACA (Proton Pump Inhibitors and Clopidogrel Association) prospective randomized study. J Am Col Cardiol 2009;54(13):1149-1153.

Bagheri SM, Zare-Mohazabieh F, Momeni-Asl H, Yadegari M, Mirjalili A, Anvari M. Antiulcer and hepatoprotective effects of aqueous extract of Plantago ovata seed on indomethacin-ulcerated rats. Biomed J 2018;41(1):41-45.

Najafian Y, Hamedi SS, Farshchi MK, Feyzabadi Z. Plantago major in Traditional Persian Medicine and modern phytotherapy: a narrative review. Electr Phys 2018;10(2):6390.

Ahad HA, Sreeramulu J, Himabindu V. Fabrication and comparative evaluation of Glipizide-Aloe barbadensis Miller mucilage, guar gum and is paghula husk based sustained release matrix tablets. Int J Chem Sci 2009;7(2):1479-1490.

Erum A, Bashir S, Saghir S, Sarfraz RM. Arabinoxylan from Plantago ovate (Husk) a novel binder and super disintegrant. Dhaka Uni J Pharm Sci 2014;13(2):133-141.

Hindustan AA, Yesupadam P, Ramyasree P, Suma Padmaja B, Sravanthi M, Guru Prakash P. Isolation and physicochemical characterization of Hibiscus rosa-sinensis leaves mucilage. Int J Curr Res 2011;3(4):210-212.

Abdul HA, Sreeramulu J, Bindu VH, Ramyasree P, Padmaja BS, Sravanthi M. Isolation and physicochemical characterization of Ficus reticulata fruit mucilage. Intl J Green Pharm 2011;5(2).

Murakami H, Kobayashi M, Takeuchi H, Kawashima Y. Utilization of poly (DL-lactide-co-glycolide) nanoparticles for preparation of mini-depot tablets by direct compression. J Cont Rel 2000;67(1):29-36.

Fukui E, Miyamura N, Uemura K, Kobayashi M. Preparation of enteric-coated timed-release press-coated tablets and evaluation of their function by in vitro and in vivo tests for colon targeting. Int J Pharm 2000;204(1-2):7-15.

Leane MM, Cumming I, Corrigan OI. The use of artificial neural networks for the selection of the most appropriate formulation and processing variables in order to predict the in vitro dissolution of sustained release minitablets. Aaps Pharm Scitech 2003;4(2):129-140.

Hadi MA, Raghavendra Rao NG, Rao AS. Formulation and evaluation of mini-tablets-filled-pulsincap delivery of lornoxicam in the chronotherapeutic treatment of rheumatoid arthritis. Pak J Pharm Sci 2015;28(1).

Li YH, Zhu JB. Modulation of combined-release behaviors from a novel "tablets-in-capsule system. J Cont Rel 2004;95(3):381-389.

Ahad HA, Reddy BK, Ishaq BM, Kumar CH, Kumar CS. Fabrication and in vitro evaluation of glibenclamide Abelmoschus esculentus fruit mucilage controlled release matrix tablets. J Pharm Res 2010;3(5):943-946.

Ahad HA, Kumar CS, Kumar K. Designing and evaluation of Diclofenac sodium sustained release matrix tablets using Hibiscus Rosa-Sinensis leaves mucilage. Int J Pharm Sci Rev Res 2010;1(2):29-31.

Hindustan AA, Chitta SK, Anil Kumar B. Fabrication and evaluation of Nimesulide Azadirachta indica fruit mucilage based sustained release matrix tablets. Int J Chem Tech Res 2010;2(2):937-941.

Abdul HA, Sreeramulu J, Sreenivasulu R, Suma Padmaja B, Narasimha Reddy M. Fabrication of glimepiride Hibiscus esculentus fruit mucilage and povidone sustained release matrix tablets: In vitro evaluation. Der Pharmacia Sinica 2011;2(2):91-100.

Harada T, Narazaki R, Nagira S, Ohwaki T, Aoki S, Iwamoto K. Evaluation of the disintegration properties of commercial famotidine 20 mg orally disintegrating tablets using a simple new test and human sensory test. Chem Pharma Bull 2006;54(8):1072-1075.

Fukui E, Miyamura N, Uemura K, Kobayashi M. Preparation of enteric-coated timed-release press-coated tablets and evaluation of their function by in vitro and in vivo tests for colon targeting. Int J Pharm 2000;204(1-2):7-15.

Chawla PA, Pandey S. Various analytical methods for the analysis of atorvastatin: A review. J Drug Del Therap 2019;9(3):885-899.

Khalil YI, Toma NM. Formulation and evaluation of bilayer tablets containing immediate-release aspirin layer and floating clopidogrel layer. Iraqi J Pharm Sci 2013; 22(1):40-49.

Vora DN, Kadav AA. Validated ultra HPLC method for the simultaneous determination of atorvastatin, aspirin, and their degradation products in capsules. J Liquid Chrom Related Techn 2008;31(18):2821-2837.