IJCRR - Vol 07 Issue 10, May, 2015
Pages: 06-10
Date of Publication: 30-Nov--0001
Print Article
Download XML
Download PDF
SYNTHESIS AND CHARACTERIZATION OF SOME NEW AZO COORDINATION POLYMERS
Author: Mohammed Khalil Younis
Category: General Sciences
Abstract:The synthesis of the ligand 2,2'-(4,4'-(1-methyl-3,4-phenylene bis(diazene-2,1-diyl)) bis(4,1-phenylene)) bis(azanediyl) bis(oxomethylene) dibenzoic acid (L) and its coordinated polymers with six metals (Cu+2, Co+2, Ni+2, Pt+2, Th+4 and U+6) are characterized by elemental analysis, IR, electronic spectra and magnetic susceptibility. Thegeometries of the complexesdiver between octahedral and square plannerexcept for Th+4 and U+6 complexes which are eight coordinated number. All the complexes have a well considerable biological activity against different organisms.
Keywords: Coordination polymers, Azo dye, Phthalamic acid, Biological activity
Full Text:
1. INTRODUCTION
Coordination polymers were mentioned and developed nearly 50 years ago1 . Since that time, they witnessed much progress as their properties focus on waste water treatment in metal recovery, antifouling paints, anti-bacterial, anti-fungal properties, sensing and gas storage2-5. Azodyesareconsidered to be one of thefamous class of organic chemical family characterized with wide properties and attracted the attention of researchers since that time.The diversity of their colors turns the application towards pigments and dyes for a long time.6,7 Furthermore, their superior optical and thermal properties have been studied widely8 in optical recording medium9 , nonlinear optical elements and printing systems10. In this work,bisazo dye is synthesized with phthalamic acid group in order to investigate itscoordinated bonding with six elements. This approves that this compound acts as a good metal chelating agent. 2.
2. MATERIALS AND METHODS
3,4 toluene diamine (fluka), cobalt(II) chloride dihydrate (Carl Roth), nickel(II) chloride dihydrate (Carl Roth), Copper(II) chloride dihydrate (fluka) (Carl Roth), potassium tetrachloroplatinate(II) (fluka), thorium(IV) nitrate hydrate (fluka), uranyl(VI) acetate dihydrate (fluka), all the other chemicals were used as received without any purification and were of analytical grade.
Synthesis of 2,2'-(4,4'-(1-methyl-3,4-phenylenebis (diazene-2,1-diyl))bis(4,1-phenylene))bis(azanediyl) bis(oxo methylene)dibenzoic acid(L):
The ligand was prepared as described earlier by diazotization and coupling classical procedures11,12, as seen in scheme 1.
Scheme 1: Synthesis of 2,2'-(4,4'-(1-methyl-3,4- phenylenebis(diazene-2,1-diyl))bis(4,1-phenylene)) bis(azanediyl) bis(oxo methylene)dibenzoic acid [L] and their polymeric complexes
2.1. Synthesis ofCoordination
Polymers (0.001 mol) of metal salt is dissolved in formic acid (50 ml) and mixed with (0.001 mol) of ligand L solution in (50 ml) formic acid. The mixture is reflexed for 8hs. In order to complete the precipitation of the polymeric complex, the solution must be alkalized with dilute ammonia solution and heated for 3 hr. The complex is filtered and washed several times with water accompanied with acetone and dried at 45 °C for 24 hr.
2.2. Physical Measurements
Analysis of the ligand L and its complexes are carried out using C.H.N.S elemental analyzer model 2400 Perkin Elmer. IR spectra are measured at room temperature using Perkin-Elmer spectrum one B FTIR spectrophotometer equipped with potassium bromide (KBr). Conductivity meter JENWAY 4510 , is used to measure the conductivity of the complexes. These measurements are carried out using 10-3M of absolute ethanol. The magnetic susceptibility measurements of coordination polymers are carried out at room temperature by Faraday's method using Bruker BM6 instrument. The electronic spectra of coordination polymers are recorded by UnicamHEλIOSβ UV-VIS 2000 spectrophotometer using 10-3absolute ethanol solution at room temperature.
2.3. Antibacterial Activity
Biological activity of the prepared complexes are screened against five isolated organisms (Klebsiella pneumonia, Escherichia coli, Enterococcus faecalis Pseudomonas aeruginosa and Staphylococcus aureus) at 10-3M concentration in DMSO on Muller-Hinton agar plates by disk diffusion method25. These agars are incubated for 24 hs at 37 °C. The inhibition zone is measured in mm as well. 3.
3. RESULTS AND DISCUSSION
3.1. Infrared of the Ligand and its Polymeric complexes
The ligand 2,2'-(4,4'-(3-methyl-1,2-phenylenebis (diazene-2,1-diyl))bis(4,1-phenylene))bis(azanediyl) bis(oxomethylene)dibenzoic acid (L), isisolated in pure form (dark brown color). The important spectral bands for this ligand and its coordination polymers in IR spectrum are recorded as KBr disks and are shown in (Table 2). The main functional bands for the prepared ligand are as follow, a broad band at 3326cm-1 and 3441 cm-1 of ?(COO-H) and ?(NH) respectively. The bands at 1708 cm-1 and 1637 cm-1 are of ?(C=O) for the carboxylic and amide groups as follow. The band around 1505 cm-1 are attributed the azo ?(N=N) group, all the other groups at their expected regions13. This confirm the successful synthesis of the ligand. As a result of comparing the spectrum of the ligand with its polymeric complexes, it is found that there are many shifts and differences which can be illustrated as follows, The broad band at 3336 cm-1 of the ligand is disappeared in the spectrum of the polymeric complexes. This confirms the bonding at (-OOH). The ?(C=O) band of amide are shifted to lower frequencies (18-24 cm-1) except the complexes of Th+4 and U+4 which shifted to higher one (4-9 cm-1). These shifts give us an idea about the type of coordination bonding occurred at (C=O and COOH) groups respectively14. Also the weak stretching bands at 1268 cm-1 and 1278 cm-1 for (C-O) in the ligand are shifted to lower frequencies in their complexes. These results indicate the formation of C-O-M stretching bond15 . The uranyl complex exhibits two bands at 937 and 874 cm- 1 , which are as-signed to the asymmetric stretching frequency and symmetric stretching frequency, respectively of the dioxouranium ion16.
3.2. Electronic Spectra and Magnetic Susceptibility
The magnetic moment (µeff) of the complexes are given in (table 1). The electronic spectrum of the Co+2 complex gives three bands at 318, 359, 484 nm(broad in nature) with transitions 4 A2 g(F)→T2 g(F), 4 T1 g(F)→4 A2 g(F), 4 T1 g(F)→4 T1 g(P).These bands with its magnetic moment value indicate the high spin octahedral geometry with orbital contribution16.Cu+2 complex also gives three bands at 311, 354 and 473 nm mainly of 2 B1g→2 A1g. A transition typically suggestsa distorted octahedral geometry enhanced by a high value of magnetic moment 2.1 (µeff)17. Ni+2 complex also gives three bands at 306, 365 and 477 nm assigned as 3 A2 g →3T2g(F), 3 A2 g→3 T1 g(F), 3 A2 g→3 T1 g(P) transitions respectively .These bands with magnetic moment 4.8 (µeff) suggest octahedral geometry with orbital contribution18.Platinum+2 complexes show strong band at 306 nm and two weak bands at 399 and 498 nm. These two bands are assigned as 1 A1 g →1 A2 g transition in square planner geometry19,20, with diamagnetic property as enhanced with magnetic moment value 0.981 (µeff).Uranyl(VI)complex gives three bands, the first two peaks at 311 and 355 nmare of charge transfer, while the last band at 475 nm can be definitely assigned as oxygen to f transition with almost eight coordinate geometry21,22. Thorium (IV) complex also givesfour bands, the first three one at 306, 360, 398 nm which assigned as charge transfer while the fourth one at 503 nm, as in uranyl complex, with almostten coordinate geometry23,24.
3.3. Biological Activity Study
The antimicrobial activity examination of the polymeric complexes is carried out by disk diffusion method25,26. The test solutionsis prepared in dimethyl sulfoxide. The zone of inhibition is measured in mm and the values are summarized in (table 3). These values indicate that all the complexes have moderate activity towards the tested organisms.Thorium and uranium complexes have the highest activity and that has beenexplained on the basis of overtone's concept and chelating theory27,28. 4.
CONCLUSION
Bisazo dye with phthalamic acidshowsa good chelating activity towards different metals, and act as a bidentate ligand. The geometry of the complexes vary as octahedral(copper, nickel and cobalt), square planner (platinum) and 8 to 12 coordination number (thorium and uranium) respectively. All the complexes show moderate biological activity towards different bacterial types. 5.
ACKNOWLEDGEMENT
Author acknowledge the immense help received from the scholars whose articles are cited and included in references of this manuscript. The authors are also grateful to authors / editors /publishers of all those articles, journals and books from where the literature for this article has been reviewed and discussed.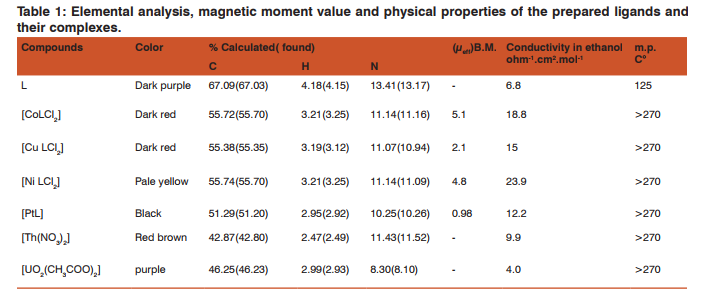 References:
1. Chin-Ti C. and Kenneth S. Suslick, Coordination Chemistry Reviews, 1993,128, 293.
2. MorsaliA. and MasoomiM. Y., Coord. Chem., Rev.2009, 253, 1882.
3. GaralehM.,LahciniM.,KricheldorfH.R and Weidner S. M., J PolymSci Part A: Polym Chem., 2009, 47, 170.
4. KirillovA.M., KarabachY.Y., HaukkaM., Guedes da Silva M.F.C., anchizJ.,Kopylovich M.N. andPombeiroA.J.L., Inorg. Chem., 2008,47, 162.
5. Chu Z.L., Huang W., Zhu H.B. andGou S.H., J. Mol. Struct., 2008,874, 1.
6. KohJ. and Greaves A.J, Dyes Pigments,2001,50, 117.
7. Karci F., ?ener I and, Deligöz H., Dyes and Pigments, 2003,59, 53.
8. Maho K., Shintaro T., Yutaka K., Kazuo W., Toshiyuki N. and Mosahiko T., J Appl Phys., 2003, 42, 1068.
9. Patel A.D., Patel R.S. and Patel G.R., E-Journal of Chemistry.,2010, 7(3),1023.
10. Patel K.D. and Patel H.S.,Der Pharmacia Lettre., 2011, 3(1), 356.
11. Shukla H. M. , SolankiYogesh K., Shah Ashish R., Shah PurveshJ.,Shah Amish I. and Raj Dilipsinh S., Res.J.Chem. Sci., 2013, 3(1), 48.
12. Al-JibouriM. N , Taghreed M. M. and Al-Ameen B. O., Eur. Chem. Bull., 2014, 3(5), 422-425.
13. Dana W. Mayo, Foil A. Miller and Robert W. Hannah, 2003 "course notes on the interpretation of infrared and raman spectra",1st Edition John Wiely New York.
14. SatpathyK.C., PandeA.K., Mishra R. andPanda I., Synth. React. Inorg. Met. Org. Chem., 1991,21, 531.
15. Nakamoto K. ,1997 "Infrared of inorganic and coordination compounds", 6th Edition, John Wiely New York.
16. Mamdouh S. Masoud, Sawsan S. Hagagg, Alaa E. Ali andNessma M. Nasr, Journal of Molecular Structure, 2012, 1014, 17–25.
17. Khyati D. Patel and Hasmukh S. Patel, Der Pharmacia Lettre, 2011, 3(1), 356.
18. Purav T. and ChaudhariJ.A.,J. Chem. Bio. Phy. Sci. Sec. A, 2013, 3, (1), 109.
19. Monika T. andSulekh C., Open Journal of Inorganic Chemistry, 2012, 2, 41.
20. Erik W.,la Gerard van Koten, Christopher T. Knaap,la HoussainOssor, Michel Pfeffer and Anthony L. Spekld, Inorg. Chem., 1988, 27, 4409.
21. El- Ayaan U., Youssef M.M., Al-ShihryS., J. Mol. Struct., 2009, 936, 213.
22. Jahanara N., International Journal of Materials Science and Applications, 2015,4(1), 20.
23. ButtrusN.H.,and Mohammed S.I., Mutah Lil. Buhuth wad. Dirasat (Jordon), 2004, 16(1), 87.
24. Andrew C. Behrle,Charles L. Barnes, Nikolas Kaltsoyannisand Justin R.Walensky, inorg. Chem., 2013, 52, 10623
25. Franklin RC, Matthew AW, Jeff A, Michael ND, George ME, Mary JF, Dwight JH, David WH, Janet AH, Jean BP, Mair P, Jana MS, Richard BT, Maria MT, John DT, Melvin PW