IJCRR - 7(15), August, 2015
Pages: 08-11

Date of Publication: 11-Aug-2015
Print Article
Download XML
Download PDF
STUDY OF CLINICAL PROFILE OF CD4 COUNT AND OUTCOME IN CHILDREN WITH HIV/ AIDS BELOW 12 YEARS
Author: A.M. Lingayat, Prathamesh Kamble
Category: Healthcare
Abstract:Study: To study clinical profile CD4 count and outcome in children with HIV/AIDS below 12 years of age. Aims and Objective: To study, in children with HIV/AIDS Clinical profile, CD4 count and Out-come. Material and Methods: The study was carried out in ART OPD and pediatric ward over one year duration. All children who were HIV reactive below 12 years were enrolled. Detail history examination and investigation done clinical profile, symtomatology, staging CD4 count and outcome studied in these cases. Result: Males (79%) are affected more than females, while common age of presentation was 8.2yrs. Majority of patients were in WHO staging of Stage III (33.6%) and Stage IV (29.6%), most common symptom was weight loss in 50 cases and commonest sign was generalized lymphadenopathy in 57 cases. Tuberculosis was the most common opportunistic infection in 18.4%. Baseline CD4 count was < 15 % in 52% cases. Out of 125 cases, 75 improved, 15 deteriorated, 30 lost follow up and 5 expired.
Conclusion: In these studied patients of HIV infection males are affected more and common age of presentation was 8.2 years. Most common symptom was weight loss and tuberculosis was the most common opportunistic infection. Majority patients were in stage III and stage IV. ART has improved these patients and is the prime central management for these cases.
Keywords: HIV, Childrens < 12 years, CD4 Count, Outcome
Full Text:
INTRODUCTION
The UNAIDS report on the global AIDS epidemic estimated that approximately 4,20,000 (3,50,000-5,40,000) new HIV infections occurred in children below 15 years of age in year 2007.90% of them through me other to child transmission. The global impact of HIV epidemic has been 50 dramatic and devastating that it has been described as the "epidemic of current century"1 . The first case of HIV infection in India was diagnosed among sex workers in Chennai, Tamil Nadu in 19862 . The clinical manifestation of HIV infection in children is different from those in adults. The immune system of young children who are infected perinatally is immature and hence dissemination throughout the various organs may occur very early3 . Antiretroviral therapy (ART) has been scaled up in Africa over the past year (UNAIDS and WHO 2003, 2007). At the end of 2007, 30% of the estimated 7 million people in need of treatment were receiving it (WHO, 2009)4 . We have studied clinical manifestations staging and outcome of these HIV infected cases.
AIMS AND OBJECTIVE
To study in children with HIV/AIDS clinical profile, CD4 count and out come
MATERIAL AND METHODS SETTING: The study was carried out in ART centre and pediatric ward at Govt. Medical College, Aurangabad. STUDY
PERIOD: January 2009 to Dec 2009.
STUDY DESIGN: Prospective observational study
SAMPLE SIZE: All children who were HIV reactive attending ART OPD and IPD below age of 12 years
 INCLUSION CRIETERIA: All children who were HIV reactive attending ART OPD and IPD below age of 12 years.
EXCLUSION CRITERIA: Children above 12 years.
METHOD
Written and informed consent of all parents and caretakers was taken before performing the tests and examination. All children who were thus confirmed seropositive using three rapid tests (Tridot, coombed and immunochromatography) were included in the study. A detailed history including family history, birth history and immunization history noted. A detailed physical was examination done. Investigations like hemoglobin, total WBC count, platelets count, CD4 Cell count by standard flow cytometric method using FACS count, done. Other tests like tuberculin test, LFT, KFT, CSF exam. Blood culture was done as per the indication. All patients were treated with ART as per NACO 2006 guidelines. All cases were followed up to 6 months and outcome was studied.
RESULT
Total 125 cases of HIV/AIDS attending ART OPD or admitted in ward during study period were studied. Out of total 125, 79 (63.2%) cases were of males and 46 (36.8%) were of females. Mean age of presentation was 8.2 years. Most common symptom was weight loss (50 cases) and most common sign detected in this case was generalized lymphadenopathy (in 57 cases) as shown in fig. 1 and Fig. 2 According to WHO staging 33.6% were in stage III and tuberculosis was the most common opportunities infection (18.4%). Baseline CD4 count was<15 % in 52% cases; 66.4% of children were in stavudine based regime, while 22.4% on Efavirenz regimen and 18.4% were on AKT as shown in table 4; 527 children with ARI improved and 4 expired.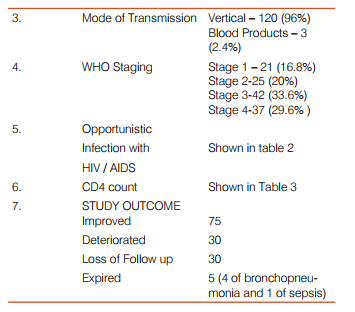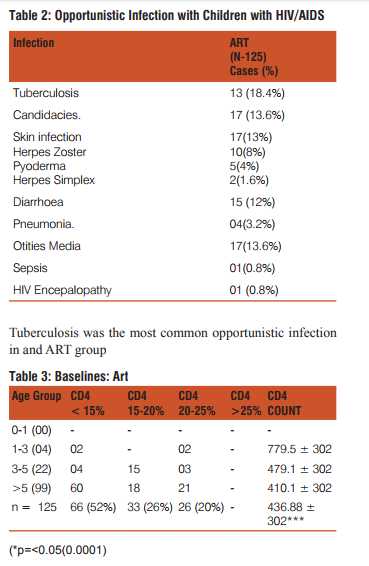 There was significant difference in CD4 count at baseline in group 52% has CD4 count < 15% in ART group.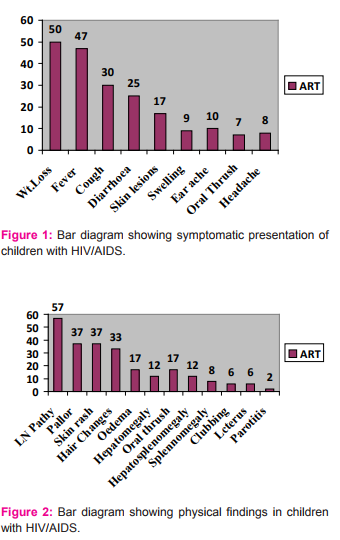 DISCUSSION
The present study is carried out in ART centre and in dept. of pediatrics to study clinical profile. CD4 count, and out-come of HIV patients below 12 years In present study mean age of mean age of presentation was 8.2 year which was similar to other various studies5,6,7. The commonest mode of transmission to children was vertical transmission similar to other studies5,8 vertical transmission was the commonest and breast feeding is the least common mode9 . The most common symptom was weight loss due to anorexia, diarrhoea, malabsorption and repeated infection8,10. In other studies, most common presenting symptom were URIT, Fever, cough and skin rash11,12,13 lymphadenopathy and hepatosplenomegaly and pallor are common signs as a pan of diffuse infiltrative process5,8,14. Majority of patients were in WHO clinical staging of III and IV similar to other studies5,15. Tubercuolsis was found to be commonest opportunistic infection similar to other studies2,6,11,16,17 HIV associated tuberculosis is important not only because of its frequency but because of its dissemination and multidrug resistant strains. Early diagnosis and treatment of tuberculosis also show control of HIV infection16. CD4 T lymphocyte is the immune system cells that HIV infects and destroys and CD4 count roughly reflects the state of immune system. CD4 percentage declined with progression in WHO clinical stages. There was statistically significant difference at Baseline and 6 months CD4 counts in ART patients showing improvements in immune status18. But we could not do follow up of all these cases as 35 cases lost their follow up. Mortality was noted in 5 cases. However studies4,15 found high mortality rate may be due to patients in Pre ART group . 75 cases improved in out study on ART. Thus by improving coverage, care, proper investigation and treatment of these case we can improve the survival and reduces mortality
References:
1. Padmapriyadarsinic, Pooranagangadevi N, Chandrasekaran K, Sudha S, Tiruvalluvan C, Bhani PK et al. Prevalence of underweight, stunting, and wasting among children infected with Human Immunodeficiency Virus in South India, Int J Pead 2009;2009:1-5.
2. Gallo RC, Sahalludin SZ, Papovic M, Shearer G, Mark K, Barton F. Frequent Detection and Isolation of cytopathic Retrovirus from patient with AIDS and risk of AIDS.AIDS 1984;224:500- 03.
3. Ira Shah, Nitin Shah, Mamta Manglan. IAP Speciality Series On Peadiatric HIV: National Guidelines Of Peadiatric HIV. NACO and IAP 2006 Pg.1-114.
4. Megan McGuire1, Tamika Munyenyembe1, Elisabeth Szumillin, Annette H,Mickael LP, Nenette B. Vital status of pre-ART and ART patients defaulting from care in rural Malawi. Trop Med Int Heath 2010;(1):55-62.
5. Agrawal D, Chakrabvarty J, Sunder S, Gupta V, Bhatia BD. Correlation between clinical features and degree of immunosuppression in HIV infected children: Indian Peadiatr2008;45:140-43.
6. Shet A, Mehta S, Rajgopalan N, Dinkar C, Elango R, Samuel NM. HIV –associated anemia in children: A systematic review from a global perspective. Peadistrics 2009;9:37-40.
7. Addy Kekitiinwa, Kathrine J.Lee. Walkar A. Albert M. Katja D. Initial growth, CD4, and viral load responses to HAART in Ugandan compare to UK/Irish HIV –Infected children. J Aqure Immune Deffic syndrome,2007;49:384-94.
8. Lodha R, Thorkild T, Robert D, James KT. Severe Malnutrition with and without HIV-1 infection in hospitalized children in Kampala, Uganda: Differences in clinical features, haematological findings and CD4+ cell counts. Nutr J 2006;5:27-32.
9. Ranbir Singh L, National guidelines of Peadiatric HIV.NACO and IAP 2006 Pg.13-20.
10. Sharma S, Dhungana GP, Pkherel BM,Rajal BP.Clinical features of HIV/AIDS various Oppurtunistic infection in relation to antiretroviral status among HIV seropositive individual from central Nepal: Kathmandu University Med J 2009;7(4):355-9.
11. Mwangelwa Mubiana-Mbewe1, Carolyn Bolton-Moore, Yolan Banda, Namwingo C, Mutinka N. Causes of morbidity among HIV-infected chiidren on retroviral therapy in primary care facilities in Lusaka.Trop Med Int Health 2009;14(10);1190-8.
12. Soumya Swaminathan, Sangeetha M, Arunkumar M, Menon PA, Thomas B, Shibi K et al. Pulmonary tuberculosis in HIV positive individuals: Preliminary report on clinical features and responses to treatment. Indian J Tubercle 2002;49;189-94.
13. Shah SR, Tullu MS, Jaishree K. Clinical profile of Pediatric HIV infection from India. Arch Med Res 2004;36(1):24-36.
14. Hamid MZA, Aziz NA, Syed Z, Morlijah O, Kumar R. Clinical features and risk factors for HIV Encephalopathy in children: South Asian J Trop Med 2008;39:266-71.
15. Carolyn Bolton Moore, Mwangelwa Mubiana- Mbewe, Ronal A, Cantrell clinical outcomes and CD4 cell response in children receiving antiretroviral therapy at primary health care facilities in Zambia : JAMA.2007;298(16):1888-99.
16. Pol RR. Sherpur T. Ratageri V. To study the clinical manifestations and incidence of opportunistic infections in HIV/AIDS, Indian J pediatr 2007;74:1072-74.
17. Kumarasamy N, Vallabhaneni S. clinical profile of HIV in India. Indian J Med Res 2005;121:377-94.
18. Devi PG Padampriydarshini C. Persistence of stunting after highly active antiretroviral therapy in HIV infected children in South India 2009 Pg.1-12.