IJCRR - 14(21), November, 2022
Pages: 01-07

Date of Publication: 10-Nov-2022
Print Article
Download XML
Download PDF
Relation between Prakriti and Mental Health: An Observational Study
Author: Jyoti Yadav, K. N. Singh
Category: Healthcare
Abstract:Introduction: Mental Health issues are the chief reason for many health diseases. The list of health problems ranges from anxiety, heart disease, hypertension, and diabetes. Ayurveda cleaves up the population on the basis of the Prakriti. There are seven types of Prakriti. All the Prakriti has different psychosomatic combination. The Prakriti of an individual can be evaluated with the help of the traits that are explained in ancient Ayurveda literature. The evaluation of Prakriti can be helpful in knowing the Mental Health Status (MHS) of an individual and lastly helping them to maintain their Mental Health Status and keep Mental Health issues away. Aim and Objective: The aim of the study was to see the relationship between Prakriti and Mental Health Status. Material and Methods: Questionnaire of Mental Health Inventory and Prakriti were distributed to 380 educated unemployed youth aged between 21 to 35. Prakriti and Mental Health Status were evaluated from the received responses from the respondents. The data was analyzed to see if there is any relationship between them. Conclusion: The study shows that in the psychosomatic combination of an individual KaphaPrakriti is said to be the most important factor and Vata Prakriti is more prone to negative Mental Health Status. They face more mental issues. The frequency of negative Mental Health Status can be reduced with proper care and management.
Keywords: Prakriti, Mental Health, Mental Health Issues, Psychosomatic Combination, Unemployed Youth, Panchmahabhuta
Full Text:
INTRODUCTION
Ayurveda, the Indian traditional medicine system contemplates Panchmahabhuta (i.e., Aakash, Vayu, Jal, Prithvi, Agni) to be the basic charter of the physical universe comprising the human body.1 These Mahabhuta are apparent in Tridhosa (i.e., Vata, Pitta, and Kapha).2 Thought all three Doshas remain in each human being, but the dominancy of one decides the Prakriti of an individual. Prakriti is determined on the basis of physical, physiological, psychological, and behavioral characteristics.3 Prakriti of a person decided by genetic and acquired factors. The genetic factors it is based on Shukra (sperm) and Shonita (ovum), while acquired factors include heredity, age, season, race, climate, and region.4 Prakriti is an important notion of Ayurveda that explains individuality. There are seven types of various combinations of Doshas and the dominancy of Doshas from the different types of Prakriti. The seven types of Prakriti are as follows Vata, Pitta, Kapha, Vata- Kapha, Pitta- Kapha, Vata- Pitta, and Sama Doshas Prakriti.5,6
The physical and Mental traits of every single Prakriti are explained in Ayurveda. The traits of physical Prakriti comprise physical attributes as well as psychological attributes.7
The capacity to manage mental health status is different in every single person. Mental Health Status (MHS) can differ with the types of Prakriti.8 This particular study is commencing to see if there is any relation between Prakriti and the Mental Health Status of a person.
OBJECTIVE OF THE STUDY
Mental Health Status is the main factor for many health issues. If we could be able to guess the Mental Health Status of an individual, we would be able to prevent Mental Health induced diseases. The objective of the study is to assess the Prakriti and the Mental Health Status of the volunteers.
MATERIAL AND METHODS
Population-
For the current study (Ethical No. Dean/2020/EC/2334) the Educated Unemployed Youth of Varanasi City were considered, aged between 21 to 35 with a total number of 380 sample size.
Sampling Method- In the present study Cluster sampling technique were used.
Assessment of Prakriti- We have taken the Prakriti Questionnaire originally developed by Kishor Patwardhan and Rashmi Sharma which is later on modified by Piyush Kumar Tripathi, Kishor Patwardhan from the Dept. of Rachana Sharir, Faculty of Ayurveda and Girish Singh of Dept. of Biostatistics and Community Medicine, Institute of Medical Sciences, Banaras Hindu University, Varanasi. The questionnaire was used as it was available as it was already validated by the authors.
Assessment of Mental Health Status-The questionnaire which was used for knowing the Mental Health status was developed by Dr. Jagdish, Department of Psychology, RBSPG College, Agra, and Dr. A.K. Srivastava, Department of Psychology, Banaras Hindu University, Varanasi. The Mental Health status was graded as Very Good, Good, Average, Poor, and Very Poor.
A total of 380 volunteers were taken and after that Prakriti and Mental Health were evaluated by using the collected data. Seven type of Prakriti was listed and separated. The Mental Health Status of every individual was with their Prakriti.
STATISTICAL ANALYSIS
Data was collected in Excel Sheet and analysis was done by using SPSS (Statistical Package for Social Sciences) Version 23.0 Software.
RESULT
A total number of 380 were taken out in which 204 are Male respondents and 176 are Female respondents. The number of Vata Prakriti respondents are 220 and Pitta Prakriti respondents 239 while Kapha Prakriti has 46 respondents. Talking about the subject who have dual Prakriti, there are 32 respondents of Pitta- Kapha, Vata-Kapha had 09 number of respondents, and Vata- Pitta Prakriti had 22 respondents. Talking Sama Prakriti it had 12 respondents.     
Total 380 respondents taken participation in the study.(Table 1 and figure 1A). The total number of respondents in Vata Prakriti was 220, PittaPrakritihas 39, and KaphaPrakritihas 46. When we talk about Dual Prakriti people i.e., Vata- Pitta, Pitta- Kapha, and Vata- Kapha were 22, 32, 09 respondents respectively. People with SamaPrakriti(Vata, Pitta&Kapha) were 12 respondents.
There are 112(29.5%) candidates having Very Poor Mental Health Status (MHS) ,115 (30.3%) candidates have Poor Mental Health Status and 110 (28.9%) respondents having Average MHS and there are no respondents having Very Good Mental Health Status. (Figure 1B)
Table no. 2 and fig. no. 2(A) portrays that out of 380 only 43 participants had good Mental Health Status. There is only one participant with Vata- Kapha Prakriti had Good Mental Health Status. There are no single respondents with Vata, Pitta and Vata- Pitta Prakriti had good Mental Health Status. The highest number of respondents was from Kapha Prakriti. The number of Pitta- Kapha and Vata- Kapha Prakriti was 3 and 1 respectively. 2 respondents with Sama Prakriti (VPK) had Good Mental Health Status.
Figure number 2B shows that Kapha Prakriti individual comprises 80.40% of the group, Sama Prakriti people have 16.70%, Vata- Kapha Prakriti people have 11.10% and Pitta- Kapha Prakriti have 9.40% of people having Good MHS.
Table no. 3 and fig no. 3A Depicts that out of 380respondents total 110 respondents had Average Mental Health Status (MHS). 14, 7, 8 respondents with Vata, Kapha and Vata- Pitta Prakriti had Average MHS. The highest number of respondents with Average MHS was from Pitta Prakriti with 38 in number. The count of Pitta- Kapha Prakriti, Vata- Kapha and Sama Prakriti was 29, 6 and 8 respectively who had Average MHS.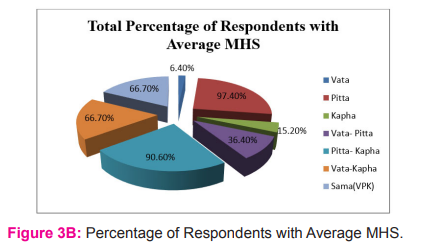 Figure No. 3B: Percentage of Respondents with Average MHS
Fig. no. 3B shows that Vata, Kapha and Vata- Pitta Prakriti individual comprises 6.40%, 15.20%and 36.40%respectively of the group, Pitta Prakriti had highest people 97.40% in the group, Pitta- Kapha Prakriti people are 90.6% and Vata- Kapha Prakriti people are 66.70% in the group. 66.70% people with Average MHS had Sama Prakriti.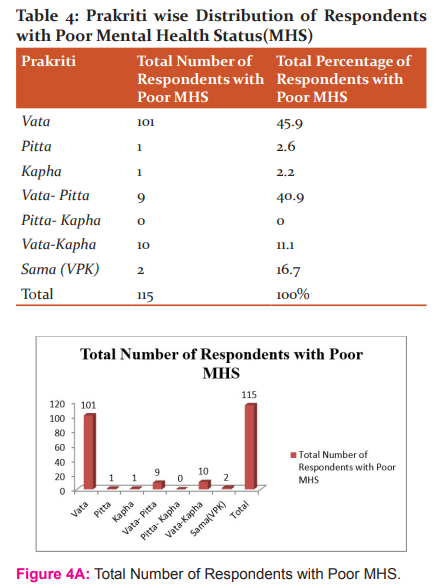 Table no. 4 and figure no. 4A shows that out of 380 respondents 115 respondents had Poor MHS. 101 respondents with Vata Prakriti had poor MHS. Pitta, Kapha and Vata –Pitta had 1,1 and 9 respondents respectively.10 respondents with Vata- Kapha and 2 respondents with Sama Prakriti had Poor Mental Health Status(MHS).
Figure no.4B shows that Vata Prakriti had the highest number of respondents having Poor MHS. Pitta Prakriti people are 2.60% and Kapha Prakriti has 2.20% people in the group. Vata- Pitta Prakriti people are 40.90% in the group. No respondents with Pitta – Kapha Prakriti is said to have Poor MHS. 11.10% and 16.70 % of people with poor MHS had Vata- Kapha and Sama Prakriti respectively.
Table no. 5 and figure no. 5A shows that out of 380 respondents 112 respondents had Very Poor MHS. 105 respondents with Vata Prakriti had Very Poor MHS. 5 respondents with Very Poor MHS had Vata- Pitta Prakriti. While Kapha and Vata- Kapha Prakriti had 1,1 respondents in the group. Pitta and Sama Prakriti had zero respondents in the group.
The above diagram (figure 5B) shows that there are no respondents with Pitta and Sama Prakriti said to have Very Poor MHS. Vata Prakriti people are 47.70% and Kapha Prakriti people are 2.20% in the group. 22.70% of people with Very Poor MHS had Vata- Pitta Prakriti and 11.10% of people had Vata- Kapha Prakriti.       
DISCUSSION
Mental Health issues are an inescapable factor in life. One must be knowing the management of it. When the mental status is disrupted homeostasis of hormones as well as important components of (Doshas) the body is also disrupted. Health issues like Heart disease, Migraine, Hypertension, Anxiety, and Diabetes are ill mental health-induced problems. The Psychosomatic combination of an individual explains his/her psychological and physical traits.9-12
The psychological traits of Vata Prakriti person are unstable, impatient, and violent. The person of Vata Prakriti has talkative in nature and experiences anger, irritability, intolerance for cold things, and lesser strength. Their sleeping pattern is not good enough and their mind is never steady.13-16
Pitta Prakriti people are radiant, brave, and have sharp physical strength. They are intolerant of hot things, it is not easy to defeat them easily. They are unsparing to negative people while they behave softly to good people. These individuals have highly intellectual and middling strengths. They are mighty and short-tempered.17-19
The psychological manifestation of Kapha Prakriti individuals is that they are slow in action, and they never get very much depressed. These types of people are patient, hardworking, and never get angry. They easily forgive and are soft in nature and voice. Generally characterized by a pleasing appearance, happiness in the face, stability of the body, and decent. They also have a good sleeping pattern.20-22
The individual having duel Doshas Prakriti have the psychosomatic manifestation of both the Doshas. The dominant Dosha in the duel Dosha Prakriti has more influence on the psychological and physical attributes of an individual. While people having Sama Prakriti had characteristics of all three Doshas. Because of their manifestation, Kapha and Sama Prakriti are said to be the good Prakriti in all types of Prakriti as they are capable in coping with all psychological distress easily in comparison to others.23-25
Individual who has a dominant of Kapha are psychologically strong. Their soft, patient and tolerant nature makes them strong enough to face difficult situations. When an individual has dominancy of Kapha Dosha in their combination, they can handle mental health issues very well. Their quality of good sleep also assists them to maintain hormone levels so they abide calm, and less mental health issues, and stress.26-28
The people having dominancy of Pitta Dosha are brave enough and intellectual. This quality in this individual makes them confident enough for facing the challenges. While Vata Dosha's dominant individuals are psychologically impatient and unstable and intolerant.29 Due to these factors, an individual with Vata dominant Prakriti is bad in facing mental stress and having poor mental health status. But if an individual has Kapha dominant Vata- Kapha Prakriti, the individual gets the benefits of Kapha in Mental Health Status(MHS).
The respondents for the present study are educated unemployed youth of Varanasi City. Being educated and having no job hits the mental level of youth very badly. Hence, nobody came under the category of Very Good Mental Health Status(MHS). People having Vata Prakriti are more in this sample.
A total of 59.80% of people who had Poor Mental Health status had either Vata or Vata- PittaPrakriti. An individual with Kapha dominated Prakriti had Good MHS.
28.90%people had Average MHS had Pitta or Pitta- Kapha Prakriti dominated Prakriti. Pitta and Kapha dominated individuals with the highest number in Average MHS. The group of Pitta- Kapha Prakriti people was on the second number in the group. An individual having Vata-dominated Prakriti is least in the Dwandaj (Duel) Prakriti group with an Average MHS. The Pitta- Kapha Prakriti person assessed themselves as Average in MHS.
Total of 11.30% of individuals had Good MHS had Kapha-dominated Prakriti. Kapha Prakriti had the highest number of people having Good MHS. The group of Sama Prakriti have the second number in the group. There is no single individual with Vata-dominated Prakriti had Good MHS.
Interestingly, The Good MHS group had a dominancy of Kapha, the Average MHS had a dominancy of Pitta and the Poor MHS had a dominancy of Vata Prakriti.
The psychosomatic manifestation of Vata Dosha is characterized by bad MHS. Précised systematic conditions need heedful meticulous like Anxiety, Hypertension, Renal and Respiratory diseases, and heart diseases.30-32 Many studies related to this are available.33-38
CONCLUSION
Anxiety Test, IQ tests and many psychological test are customary assessment tool in our society that are used for many years. If the individual's Prakriti is assessed at early age, we can able to get a hint regarding their Mental Health status (MHS). Maintaining their MHS is very important in this modern developing world. The youth is under massive mental health problems due to their job, education and carrier. By conducting the Prakriti assessment, we can able to steer clear of Mental Health related issues.
Scope for further study:
For more accurate results one can give a try with a bigger sample size.
Acknowledgment:
We thank Bajrang B. Yadav (Biostatistician), Anurag S. Gautam (Research Scholar) and Divya Jaiswal (Psychologist) for their immense support.
Conflict of Interest: None
Source of funding: None
Authors' Contribution:
Jyoti Yadav, the corresponding author has done the review of the literature with collection and analysis of the data. She has also prepared the result and reported the findings.
Dr. K.N. Singh has designed and supervised the study.
References:
1. Agnivesha AY. Charaka Samhita revised by Charaka & Dridhabala, with Ayurveda Dipika commentary by Chakrapani Dutta. Chaukhamba Surabharathi Prakashana, Varanasi. edition-2011, chikitsasthana, 9th chapter, verse no-42, pg473. 2011.
2. Joshi K, Thapliyal A, Singh V. The Tridosha Theory According to Ayurveda.IJMTST.2021 Aug 5; 7(0708032):120-124.
3. Charak, Charak-Samhita, with Chakrapanidatta commentary, Chaukhambha Sanskrit Sansthan, Varanasi, Vimanasthana Chapter 8 verses 96-100.
4. Giri D, Wairagade S, Desai P, Agrawal A, Jha RK. Relation between Prakriti and stress handling capacity: An observational study. IJCRR. 2020 Aug;12(15):103-9.
5. Bagali SS, Baragi UC. Concept of Manasa Prakruti as described in Charaka Samhita. JAIMS. 2016 Oct 31;1(03):81-6.
6. Wani BA, Mandal SK, Godatwar P. Prakriti analysis and its clinical significance. International Journal of Ayurveda and Pharma Research. 2017 Oct 5.
7. Huang Z, Chavda VP, Bezbarauh R, Uversky VN, Sucharita P, Patel AB et.al. An Ayurgenomics Approach: Prakriti-Based Drug Discovery and Development for Personalized Care. Frontiers in Pharmacology. 2022; 13:866827
8. Flatau P, Galea J, Petridis R. Mental health and wellbeing and unemployment. Australian Economic Review. 2000 Jun;33(2):161-81.
9. Sarir- KriyaVigyan by Dr. Sunil Verma and Prof. JairamYadav, Chowkhamba Orientalia, Varanasi, Chapter 6-9;2018; 57- 116
10. Mahalle NP, Kulkarni MV, Pendse NM, Naik SS. Association of constitutional type of Ayurveda with cardiovascular risk factors, inflammatory markers and insulin resistance. JAIM. 2012 Jul;3(3):150-7
11. Agnivesha, Charaka, Dridhabala, Carakasamhita, Vimansthan, Rogbhishigjitiya Adhyay, 8/96, edited by Dr. Brahmanand Tripath, Chaukhamba Surbharati Prakashan, Varanasi. 2017;759.
12. Dhar R, Singh S, Talwar D, Murali M, Tripathi SK, Swarnakar S et al., Bronchiectasis in India: results from the European multicenter bronchiectasis audit and research collaboration (EMBARC) and respiratory research network of India registry. The Lancet Global Health. 2019 Sep 1;7(9): e1269-79.
13. Gadre RK. Ashtanga Hridaya of Vagbhata; Sharir sthanam: Anga Vibhagam; Chapter 3 Verse 82. Pune, India: Aryabhushan Mudranalaya. 1963.
14. Sarsina PR, Alivia M, Guadagni P. Traditional, complementary and alternative medical systems and their contribution to personalization, prediction and prevention in medicine—person-centered medicine. EPMA Journal. 2012 Dec;3(1):15.
15. Vagbhata, Atridevgupt, Ashtanghridaya, Sharirsthan, 3/84- 89, edited by Yadunandan Upadhyay, Chaukhamba Surbharati Prakashan, Varanasi. 2018;260
16. Gaikwad KB, Joshi NG, Selkar SP. Study of nitrosative stress in 'Pregnancy Induced Hypertension. Journal of clinical and diagnostic research: JCDR. 2017 Mar;11(3): BC06-BC08
17. Agnivesha, Charaka, Dridhabala, Carakasamhita, Vimansthan, RogbhishigjitiyaAdhyay, 8/97, edited by Dr. Brahmanand Tripathi, Chaukhamba Surbharati Prakashan, Varanasi. 2017;760.
18. Sharma S. Commentary Shashilekha of Indu on Ashtanga Samgraha of Vagbhata, Nidana sthana; Sarva Roga: Chapter 1 Verse 15. Varanasi: Chowkhambha Sanskrit Series. 2006;353.
19. Singh RH. The holistic principles of Ayurvedic medicine. Chaukhamba Sanskrit Pratishthan; 1998.
20. SusrutaSamhita by KavirajKunjalalBhishagratna, Prologued and Edited by Dr. Laxmidhar Dwivedi, Sarir- Sthana; Chapter IV; Chowkhamba Sanskrit Series Office ,Varanasi -1, 2002; 180-2
21. Bhushan P, Kalpana J, Arvind C. Classification of human population based on HLA gene polymorphism and the concept of Prakriti in Ayurveda. J Altern Complement Med. 2005 Apr 1;11(2):349-53.
22. Udupa KN, Singh RH, Dubey GP, Rai V, Singh MB. Biochemical basis of the psychosomatic constitution. Indian J Med Res. 1975 Jul 1;63(7):923-7.
23. Tiwari L, Tiwari SK. Scientific assessment of personality on the basis of doshaja and manas Prakriti.IJRMST. 2019, Vol. No. 8, Jul-Dec
24. Amin H, Vyas M. Evaluation of Pradhana Sharira and Manas Prakriti (bodily and mental constitution) on disease manifestations in generalized anxiety disorder. Int J Clin Exp Physiol. 2016;3 (4):171-9.
25. Sharma S. Vagbhatta. In: Asthanga Sangraha, Sharirasthana, Prakritibhediya. 4th ed. Varanasi: Chaukhambha Sanskrit Series Office; 2010. p. 311-328.
26. Joshi RR. A biostatistical approach to Ayurveda: quantifying the Tridosha. J Altern Complement Med. 2004 Nov 1;10(5):879-89.
27. Purvya MC, Meena MS. A review on the role of prakriti in aging. Ayu. 2011 Jan;32(1):20-24
28. Tripathi JS, Singh RH. Concept of deha prakriti vis-à-vis human constitution in Ayurveda. The ancient science of life. 1994 Jan;13(3- 4):314-25
29. Chatterjee B, Pancholi J. Prakriti-based medicine: A step towards personalized medicine. Ayu. 2011 Apr;32(2):141-46
30. Dey S, Pahwa P. Prakriti and its associations with metabolism, chronic diseases, and genotypes: Possibilities of newborn screening and a lifetime of personalized prevention. JAIM. 2014 Jan;5(1):15-24
31. Tiwari S, Gehlot S, Tiwari SK, Singh G. Effect of walking (aerobic isotonic exercise) on physiological variants with special reference to Prameha (diabetes mellitus) as per Prakriti. Ayu. 2012 Jan;33(1):44-9
32. Venkataraghavan S, Sundaresan TP, Rajagopalan V, Srinivasan K. Constitutional study of cancer patients–its prognostic and therapeutic scope. The ancient science of life. 1987 Oct;7(2):110.
33. Hankey A. Establishing the scientific validity of Tridosha part 1: Doshas, Subdoshas and Dosha Prakriti. The ancient science of life. 2010 Jan;29(3):6-18.
34. Hankey A. Ayurvedic physiology and etiology: Ayurveda Amritanaam. The doshas and their functioning in terms of contemporary biology and physical chemistry. J Altern Complement Med. 2001 Oct 1;7(5):567-74.
35. Rotti H, Raval R, Anchan S, Bellampalli R, Bhale S, Bharadwaj R etal. Determinants of Prakriti, the human constitution types of Indian traditional medicine and its correlation with contemporary science. JAIM. 2014 Jul;5(3):167-75.
36. Rizzo-Sierra CV. Ayurvedic genomics, constitutional psychology, and endocrinology: the missing connection. J Altern Complement Med. 2011 May 1;17(5):465-8.
37. Papalkar PA, Kumar S, Agrawal S, Raisinghani N, Marfani G, Mishra A. Heterotaxy syndrome presenting as severe pulmonary artery hypertension in a young old female: case report. Journal of Gerontology and Geriatrics. 2018 Jun 15; 66:59-61.
38. Prasher B, Negi S, Aggarwal S, Mandal AK, Sethi TP, Deshmukh SR etal. Whole genome expression and biochemical correlates of extreme constitutional types defined in Ayurveda. J Transl Med. 2008 Dec;6(1):1-2.