IJCRR - 14(6), March, 2022
Pages: 43-50

Date of Publication: 15-Mar-2022
Print Article
Download XML
Download PDF
Emerging Implementation of Nano-Suspension Technology for Delivery of Poorly Soluble Drug for the Treatment of Helminths Disease
Author: Shubhrajit Mantry, Shubham Shinde, Sahil Shaikh, Sumit Joshi, Ganesh Dama
Category: Healthcare
Abstract:Anthelmintics are medications that are used to treat parasitic worm infections. This comprises flatworms like flukes and tapeworms as well as roundworms like nematodes. They are critical for human tropical medicine. Nano-suspensions are one of the many applications of nanotechnology. Nano-suspensions are liquid formulations that feature submicron colloidal dispersion of pharmaceutical active component particles stabilised by surfactants. Nano-suspension technology is a novel and cost-effective method for improving the bioavailability of hydrophobic medicines, particularly those that are poorly soluble in aqueous solutions. Nano-suspensions play a significant role in the development of new medication formulations. High-pressure homogenizers, emulsion solvent evaporation, melt emulsification technique, and nanoprecipitation are all used to make nano-suspensions. Particle size, zeta potential, drug content, and in vitro drug dissolution were all examined for the nano-suspensions. Poorly soluble drugs can benefit from nano-suspension technology to improve their stability and bioavailability. The bioavailability of nano-suspension was also tested in mice, which showed that the particle size distribution of nano-suspension was considerably affected by bioavailability. The rate of anthelmintic nano-suspension dissolution was substantially higher than that of raw drug powder. In vivo pharmacokinetic characteristics of nano-suspension indicated a substantial increase in Cmax and AUC(0-t) when compared to pure drug. When compared to pure drug bioavailability, anthelmintic nano-suspension had a greater oral bioavailability.
Keywords: Helminths, Nano-suspension, Parasites, Bioavailability, In vitro study, Solubility
Full Text:
Introduction-
A parasitic disease is an infectious disease caused or transmitted by a parasite. Various parasite does not cause diseases as it may eventually lead to the death of both the organism and host. Parasites infecting human being are also called as human parasites. The study of parasitic disease is called as parasitology.1
Parasitism is a sort of antagonistic cohabitation in which one organism gains while the other suffers harm. Parasites have evolved a variety of adaptations to their hosts in order to maximize their benefits. 1 Nano-suspensions are colloidal dispersions and biphasic systems made up of drug particles suspended in an aqueous medium with a diameter smaller than 1 micrometer. A good size-reduction procedure and a suitable stabilizer can be used to make nano-suspension.2 The particle size in the nanometer range can contribute to higher dissolution velocity and saturation solubility for a nano-suspension, according to Noyes Whitney and Ostwald Freundlich principles, which is usually followed by an increase in bioavailability.2
History-
The first written accounts of what are almost probably parasite diseases are from the Egyptian medical period between 3000 and 400 BC, specifically, the Ebers Papyrus discovered at Thebes in 1500 BC. Humans have acquired an incredible number of parasites over our comparatively short history on Earth, including roughly 300 species of helminth worms and over 70 species of protozoa.3
S. Runge's first nanocrystal formulation (Runge 1998) did not produce the theoretically expected increase in bioavailability. In contrast to earlier evidence that nano-suspensions increase bioavailability for example, from 5% to roughly 80%.4
Nanotechnology is a subset of nanoscience, which is one of the most promising, hard, and exciting research areas in today scientific landscape. It is the study of small particles with unique features that change as the particle size changes.5 Parasitism is a complex phenomenon involving three subsystems: the parasite, the host, and the environment. The system evolved together, but modifications in any subsystem might produce disruptions, resulting in disease. Parasites are found in all creatures. Parasitism is a phenomenon that began to emerge at the same time as life on Earth.6
Types of parasites-
1) Flukes(Trematodes)-
Adult flukes are flatworms with a leaf-like form. The presence of prominent oral and ventral suckers aids in keeping the position in place. Except for blood flukes, which are bisexual, all flukes are hermaphroditic. A snail serves as an intermediary host in the lifecycle.
2) Tapeworms (Cestodes)-
Tapeworms are hermaphroditic flatworms that live in the intestinal lumen and are elongated, segmented, and hermaphroditic. Extraintestinal tissues are home to cystic or solid larval stages.
3) Roundworms (Nematodes)-
Adult and larval roundworms are bisexual, cylindrical worms. They inhabit intestinal and extra-intestinal sites 7
Application of Nano-suspension-
Nano-suspension has shown the ability to alleviate the issues associated with the delivery of poorly water-soluble and poorly lipid-soluble medicines by reducing particle size and increasing surface area. The nano-suspension DDS has been widely used in the areas of oral, pulmonary, parenteral, and ocular drug delivery, and has shown to be superior to standard drug administration routes.
1) Oral drug administration-
The oral administration method is chosen over the many alternative drug delivery administration routes due to the numerous advantages it offers. Safety, good patient compliance, ease of intake, pain prevention, and versatility to handle various types of medications are just a few of the benefits. The use of nano-suspension DDS to increase the bioavailability of poorly soluble medicines is advantageous. The many advantages of nano-suspension DDS for oral administration, such as enhanced dissolution rate and solubility of poorly soluble drugs, high adhesiveness of drug nanocrystals on the epithelial gut wall, prolonged absorption time of drug nanocrystals due to long gastrointestinal tract, and reduced variability caused by food, are the main reasons. Oral administration can be done using both liquid and solid dose forms, such as powder, tablet, pellet, capsule, and film. The prepared liquid nano-suspensions can be directly utilized in liquid dosage form for oral administration.16
2) Parenteral Administration-
In emergency cases such as cardiac arrest and anaphylactic shock, parenteral injection is favored above alternative drug administration routes. This method of administration has various advantages, including avoiding first-pass metabolism, improved bioavailability, and consistent dose. Parenteral administration has more control over the dose and rate than oral administration, resulting in more predictable pharmacodynamics and pharmacokinetic characteristics. The size of medication particles supplied should be less than 5 m in order to minimize capillary obstruction. When compared to the standard form of Oridonin, a study on the potential of Oridoninnano-suspension to inhibit tumour growth found that Oridonin in the form of nano-suspension can considerably increase the rate of tumour suppression by approximately 20%. With the use of nano-suspension, therapy efficiency is improved while costs are considerably decreased.16
3) Pulmonary Drug Delivery-
Nano-suspensions can be nebulized for pulmonary administration using mechanical or ultrasonic nebulizers. All aerosol droplets include drug nanoparticles due to the existence of many tiny particles. Because the particle size is so small, aqueous preparations of the medication can simply be nebulized and administered via the pulmonary route. For the delivery of liquid formulations, a variety of nebulizers are available.14
4) Ocular Drug Delivery-
Nano-suspensions are employed in ocular medicine delivery for long-term release. It revealed that the medication was more readily available in the rabbit eye's aqueous fluid. As a result, nano-suspension formulation appears to be a potential technique to extend the shelf life and bioavailability of drugs following ocular administration.14
Histopathology-
Histopathological investigation is critical in the identification of infectious, neoplastic, parasite, deficient, and intoxication illnesses in humans and animals. Parasitic disorders are frequently misdiagnosed 8
Histopathological study reveals pathogen-pathogen interactions and their impact on the host organism. Histopathological changes during parasitic invasions are particularly essential for differential diagnosis and frequently establish the existence of parasitic illnesses.8
The main objectives is to determine the function of histopathology in the diagnosis of animal parasitic diseases and to uncover pathological changes that occur during invasions induced by several parasite taxa, including the Protozoa, Trematoda, Cestoda, Nematoda, Acari, and Insecta.8
Mechanisms of anthelmintic resistance-
The mechanisms and genetics of anthelmintic resistance are critical in efforts to overcome resistance, slow the spread of resistant parasites, delay the development of resistance to new anthelmintic drugs, and better manage parasite control, including the use of anthelmintic combinations with existing anthelmintic. 9
On the basis of their mode of action, most anthelmintics can be divided into two groups. Drugs that impact the parasite's energy generation and drugs that disrupt the parasite's neuromuscular system (Paralysis). The neuromuscular system is affected by anthelmintic. Neurotransmission destruction is inhibited, or the action of neurotransmission is enhanced, or the activity of neurotransmission is antagonistic. The parasite is eventually paralyzed, either spastic or flaccid. The host peristaltic movement expels the paralyzed parasite.9,21
Figureno.2:Schematic representation of different factors which could affect the action of an anthelmintic, leading either to death of the target parasite or to anthelmintic resistance.
Recent advances in nano-suspension for the treatment of helminthic disease-
Parasitic infections are found throughout the animal species and have developed alongside Homo sapiens for millions of years. Helminth parasites were first documented in Egyptian papyri between 3000 and 400 BCE, and later in Greek and Arabic medical publications. Humans are home to more than 70 protozoa species and 300 helminth worm species, yet just a small percentage of them are responsible for the majority of human sickness. Anthelmintic resistance is a heritable alteration in a worm population that allows them to withstand pharmacological treatments that are normally successful against the same species and stage of infection at the same dose rate. Imidazothiazoles (e.g., levamisole), tetrahydro pyrimidines, quaternary ammonium salts, and pyrimidines are anthelmintics that target nAch receptors. The nAch receptor on nematode body muscle is the target of these structurally related anthelmintics. Binding to the receptor recognition site produces nematode muscle depolarization and spastic paralysis, which results in parasite ejection.
Some anthelmintic drugs act rapidly and selectively on the neuromuscular transmission of nematodes. Levamisole, pyrantel and morantel are agonists at nicotinic acetylcholine receptors of nematode muscle and cause spastic paralysis. Anthelmintics work by preventing worms from absorbing the sugars that they require to survive. The worms are killed, but not the eggs. Praziquantel and ivermectin operate by paralyzing intestinal worms (intestine). anthelmintic resistance (AR) as a genetically transmitted loss of drug sensitivity in worm populations that had previously been responsive to the same treatment Alleles coding for resistance will exist in a worm population as a result of mutations, even in populations that have never been exposed.
Anthelmintic medicine it stops freshly hatched insect larvae (worms) from reproducing or expanding in your body. Anthelmintic category drug is used to treat worm illnesses like swine tapeworm and dog tapeworm. So, in this parasitosis disease, the anthelmintic reduces the activity or stop the glucose production for the growth of parasite worm infection. They have paralyzed the parasites present in a particular cell. Anthelmintic Nano-suspension includes smaller particle size for greater solubility and bioavailability and shows good therapeutic effects. 10
Causes of parasitic infections-
Parasitic infections can be caused by three types of organisms:
1) Protozoa
2) Helminthes
3) Ectoparasites
Infections caused by parasites can be transmitted in a variety of ways. Protozoa and helminths, for example, can be passed from person to person through polluted water, food, waste, soil, and blood. Some of them can be spread from one person to the next through sexual contact. Insects that act as disease vectors (carriers) transfer some parasites. Helminths are multicellular organisms that can live both within and outside your body. Worms are a more frequent name for them. Flatworms, tapeworms, thorny-headed worms, and roundworms are some of them. 11
Role of nano-suspension in helminthic infection-
The use of a high-speed homogenizer and ultrasonication technology to make polymeric-coated nano-suspension boosts the drug solubility and absorption rate, increasing its availability at the site of action and increasing its bioavailability.
In this study, we create a polymer-coated drug nano-suspension, which increases therapeutic efficacy by limiting particle size availability. The rate of absorption in the stomach and intestine increases by using a polymer coating formulation. In parasitosis diseases, the anthelmintic drug inhibits the production of Glucose for growth and development of worm infection and it can paralyze the worms in the gut (intestine).
Nano-suspensions were prepared using the precipitation-ultra sonication method using suitable stabilizers and high-pressure homogenization for poorly soluble drugs. By the help of Ultrasonic homogenizers are very efficient for reducing particle size in small shapes. Cavitation is used to homogenize the fluid. Sound waves propagate through liquids when they are exposed to severe ultrasonication, creating alternating high-pressure and low-pressure cycles.
Nano-suspension technology has shown to be a novel and profitable method for increasing the bioavailability of poorly soluble medicines. Nano-suspension is a biphasic dispersion of very fine colloidal solid medication particles in an aqueous medium stabilized with surfactants. The most important advantages of polymer-coated drug nanoparticles is to enable controlled release to the desired region, to provide stability to labile molecules (such as proteins), and to provide the ability to change surfaces with ligands for stealth and targeted drug delivery. The rate and extent to which the active ingredient is absorbed from a drug product and becomes available at the site of action is known as bioavailability.12
Role of additives for nano-suspension drug targeting-
Polymer-
For the purpose of controlled release to the appropriate region, provide stability to labile molecules, to allow for the modification of surfaces with ligands for stealth and targeted drug delivery.
Eg. Gelatin, lecithin, nylon, polyethylene, and polyester.
Organic Solvent-
Organic solvents include aliphatic hydrocarbons, aromatic hydrocarbons, amines, esters, ethers, ketones, and nitrated or chlorinated hydrocarbons, among others. Eg- Methanol, Ethanol, Chloroform, Isopropanol, Ethyl acetate, Ethyl formate, Butyl lactate,
Stabilizer-
Wet the drug particle and prevent agglomeration of Nano-suspension and also providing a steric or ionic barrier. Stabilizer plays an important role in the formulation of nano-suspensions. In the absence of an appropriate stabilizer, the high surface energy of nano-sized particles can induce agglomeration or aggregation of the drug crystals. The main function of a stabilizer is to wet the drug particles thoroughly and to prevent Ostwald ripening and agglomeration of nano-suspensions in order to yield a physically stable formulation by providing steric or ionic barriers.
Eg- Lecithin, PVA (polyvinyl alcohol), PVPK-30(polyvinyl pyrrolidone)
Surfactant-
The surfactant lowers the mean particle size by modulating the accessible surface energy of the particles. As a result, the surface tension falls and the Kelvin barrier shifts, allowing more particles to escape the aggregation process.
Eg-Tweens and spans.
e) Co-surfactants-
Cosurfactant can have a big impact on phase behavior, it crucial to look into how they affect internal phase uptake for different microemulsion compositions and drug loadings. While the use of bile salts and dipotassium glycyrrhizinate as a Cosurfactant is described in the literature, various solubilizers can also be employed safely as Cosurfactant in the microemulsion production process.
e.g. Transcutol, glycerol, ethanol and isopropanol safely used as co-surfactants. Also, bile salts and Dipotassium glycyrrhizinate can be used as co-surfactants.
Buffer-
To maintain pH of formulation within normal range.
Eg-Acetate Phosphate.
Cryoprotectants 
Cryoprotectants are substances that protect biological tissue from the effects of freezing (i.e., due to ice formation). Cryoprotectants are also utilized in the study of biology to preserve living things and in the preservation of food.
Eg. - Sucrose.
Aq. Solvent 
For the dissolution of surfactant form solution the aq. Solvent use
Eg. Water.
Drug-
Depending on category purpose of use of medicine the selection of drug take place13
 Production technique used in the preparation of Nano-suspension-
A) Bottom-up techniques-
It is a method of obtaining nanoscale particles by increasing particle size from the molecular to the nanoscale. Bottom-up technology refers to the traditional processes of precipitation (Hydrosol). The medication is dissolved in an organic solvent and then combined with a miscible anti-solvent using a precipitation process. The solubility of the medication in the water-solvent mixture is low, and the drug precipitates. The basic challenge is that the growth of the crystals during the precipitation phase must be regulated by adding a surfactant to avoid the creation of microparticles.14
B) Top-down techniques-
The techniques in which the nano-size range of particles is obtained by reduction in size of larger particles.
1) High-pressure homogenization (DissoCubes)-
2) Media milling (NanoCrstals)
3) Homogenization in non-aqueous media (Nanopure)
4) Combined precipitation and homogenization (Nanoedge)
5) Nanojet Technology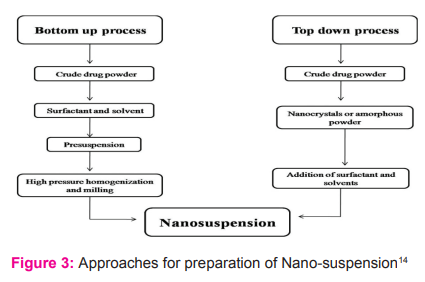 1) Nanoprecipitation-
Drug (10 mg) was dissolved in 5 ml of water-miscible solvents like acetone or ethanol. This was added dropwise to 10 ml of aqueous surfactant solution (0.5 % of poloxamer 188 or polysorbate 80 or sodium lauryl sulphate) with stirring. The resultant mixture was sonicated for 5 min followed by stirring on magnetic stirrer till the organic solvent was completely evaporated 15
2) High-pressure homogenization-
There are two types of high-pressure homogenization that are categorized as dissocubes and nanopore. The homogenization of disco cubes takes place in aqueous fluids, whereas the homogenization of nanopure takes place in water mixes or nonaqueous media.
The nanopore method, which is carried out at low temperatures and is also known as the deep freeze method, is another high-pressure homogenization process. Because of the low vapour pressure of oils or oily fatty acids and their high boiling point, cavitation does not develop when drug nanocrystals are disseminated in water mixes or non-aqueous media 16
3) Milling-
Drug (10 g) and sodium lauryl sulfate (1.0 g) were taken in a cylindrical stainless-steel vessel (high shear ball mill) and mixed with 3 balls (1.0 mm) and 3 balls (2.0 mm) made of zirconium oxide and subjected to high shear rotations. Milled powder samples (6  12 hr) were triturated in water to get aqueous dispersions. The obtained dispersions were subjected to sonication (10 min) and analyzed for mean size using Malvern Zetasizer. 15
4) Sonication-
To create a homogeneous dispersion, drug (1.0 g) and surfactant (0.5 %) were combined and triturated in water (25 ml). In the case of polymer-containing formulations, an aqueous solution of the polymer was used. To obtain a consistent product, it is prepared and triturated with medication and surfactant. Dispersal. The resulting dispersion was ultrasonicated (12T- probe) For 5 and 10 minutes, I used a Sonopuls Ultra homogenizer (Bandelin, Germany) for 5 and 10 minutes. 15
Characterization of Nano-suspension-
1) Morphological study-
Transmission electron microscopy was used to examine the morphology of drug nanocrystals in their ideal state (TEM) They discovered that the particles are spherical in shape, with a smooth surface and no rough pores. The majority of the particles are of the same in colour, indicating that electron intensity was high.17
2) Determination of zeta potential-
The nano-suspensions of zeta potential were determined using an extra electrode in the same device that was utilized for particle size analysis (Malvern Zetasizer). The electrophoretic mobility was translated to zeta potential using the Smoluchowski equation as samples of formulations were diluted with water and placed in the electrophoretic cell. At 25°C, each sample was measured three times, with the average values determined. 12
3) Particle Size and crystalline state Analysis-
Dynamic light scattering was used to determine the size and polydispersity index (the width of the particle size distribution) of nano-suspensions (Zetasizer Nano ZS, Malvern Instruments, Ltd.).The crystalline state analysis is important to study the number of amorphous drug nanoparticles within the nano-suspensions since they are likely to be produced during the preparation of nano-suspensions. These are observed by using XRD and scanning electron microscopy. 12,16
4) Saturation Solubility and Dissolution Velocity-
Saturation solubility and dissolution velocity are two significant metrics that can be used to examine changes in drug bioavailability, plasma peak, and blood profile in vivo. Because a nano-suspension is usually employed to boost the drug's saturation solubility, it's important to look into its saturation solubility. Furthermore, the dissolving velocity is a significant metric for nano-suspension, demonstrating their advantages over traditional formulations. As a result, it's important to test the drug nanosuspension saturation solubility and dissolution velocities in various conditions, such as different physiological buffers and temperatures.16
5) Determination of Drug Content-
Dissolving 10 mg of each sample in 5 mL ethanol was used to conduct the analysis. The samples were vortexes for 1 minute at room temperature, filtered (0.45 µm, Millipore), and one mL of water was added. The amount of medication was measured using a spectrophotometric method (Perkin Elmer, Japan) at 279nm against a blank of water.2
6)Statistical analysis-
The arithmetic means and standard deviation of particle sizes are presented. A two-way analysis of variance was performed to evaluate statistically significant differences in the influence of stabilizers and techniques on mean particle size (ANOVA). The 0.05 level of probability was used to test significance. The SPSS software suite was used for statistical analysis. 6
7) Differential Scanning Calorimetry (DSC)-
The thermo-tropic phase transition behavior is quantified using DSC. DSC thermograms of pure drug, pure Poloxamer, and their proposed nano-suspension. The formulation of pure drug and pure Poloxamer have sharp endothermic peaks at wavelength 216°C and 55.95°C, respectively. The representative nano-suspension formulation, on the other hand, did not produce a pronounced endothermic peak. As a result, the absence of a drug endothermic peak in the thermogram indicates that the drug was mostly changed from crystalline to amorphous during the manufacture of nano-suspension using the anti-solvent precipitation method or during freeze drying of nano-suspension. It's worth noting that each polymorph of medicine has its own melting and transitioning tendencies as a significant by-product of photochemical or thermal degradation. 18,13
Dissolution Study-
The USP Apparatus II (paddle method) was used to investigate the dissolution of nano-suspension formulations at a paddle speed of 75 rpm, a temperature of 37°C0.5°C, and a dissolving medium of 0.1 N hydrochloric acid (pH=1.2). The rate of dissolution of nano-suspension was compared to that of raw powder. After adding the formulations to the dissolution vessels, a pipette was used to collect samples (5mL) at 0, 5, 10, 15, 30, and 60 minutes. UV spectroscopy was used to examine samples that had been filtered with a 0.22 m Millipore filter (Whatman, UK) and were analyzed by UV (277nm). After each sample removal, 5ml of fresh dissolving medium was added.13,18
Animal Study-
Anti-Helminthic activity for the helminthic disease-
An anti-helminthic medicine is a substance that kills or makes parasitic intestinal worms expel themselves. Vermifuges (stunning) or vermicides are other names for them (killing).
The anthelmintic activity of the produced formulation against P. posthuma was examined. Six sets of six earthworms were discharged into 50 mL solutions containing three different drug formulation concentrations (25, 50, and 100 mg/mL each). The standard reference was Albendazole at the same concentration as the extracts, and the control was distilled water. Individual worms were timed to see how long it took them to become paralysed and die. When there was no movement of any kind except when the worms were shaken vigorously, that was the time for paralysis. The worms were declared dead when they did not move when shook vigorously or when submerged in warm (50 °C) water, and their body colours faded19
In vivo pharmacokinetic studies-
The Institutional Animal Ethics Committee (AISSMS/IAEC/18-19/1-20) granted authorization for the animal investigations. Male Wistar rats weighing 250–300g fasted for 24 hours while having unlimited access to water. The rats were divided into three groups of six rats each, with the control group receiving only plain vehicle, the second group receiving a marketed suspension, and the third group receiving manufactured suspensions orally via a feeding tube (equal to 50mg/kg dosage). Blood was collected from the retro-orbital vein at intervals of 1,2,4,6,8, and 10 hours and examined using reverse-phase high-performance liquid chromatography. The rats in each group were euthanized after 10 hours, and their intestines were separated and drug content was evaluated 18.
Pharmacodynamic study/Bioavailability study-
Male Swiss albino mice were used for the bioavailability investigation. The bioavailability of the nano-suspension formulation was compared to that of a micro-suspension made in-house with raw drug powder. The mice were fasted overnight before dosing but given unrestricted access to water throughout the experiment. They were then randomly assigned to one of two groups: nano-suspension (group A) or micro-suspension (group B) in a crossover design. Gavage was used to administer both the nano-suspension formulation and the powder (suspended in saline) at a dose of 1.4 mg/kg of mice. At five different time intervals (10, 20, 30, 40, 60, 80 min), blood samples (200 µl) were taken from a cannula vein containing citrate buffer. Tubes containing heparin Plasma was isolated from blood samples by centrifugation at 2500g for 10 minutes and kept at 20 °C until analysis. 18
Pharmacokinetic data analysis-
The pharmacokinetic behavior of an anthelmintic medication was studied using a non-compartmental pharmacokinetic approach. PK solver was used to determining the pharmacokinetic parameters (Microsoft Excel). The linear trapezoidal approach was used to determine the area under the plasma concentration-time curve (AUC). Using the same dose level (1.4 mg/kg), the relative bioavailability (BA) of the Anthelmintic nano-suspension compared to the control micro-suspension was computed as follows: AUC/AUC is the relative BA percent. T = 0.693/K was determined as the apparent elimination half-life. Following oral delivery, the maximum plasma concentration (C) and time to maximum concentration (T) were calculated directly from the data.13
Discussion- According to evaluations of multiple papers, reducing the particle size of the dosage form increases porosity and permeability, which increases bioavailability and therapeutic efficacy, and this phenomenon is useful for treating worm infection. Anthelmintic are the best category of the drug in polymeric nano-suspension form, according to the review, and produce better results than other drug categories. When standard dose forms are compared to novel drug delivery systems (NDDS) dosage forms, we discover that NDDS is more effective and patient compliance is higher.
Conclusion-
In polymer coated Nano-suspension we increased their solubility, Bioavailability and dissolution time by reducing their particle size and it also shows the helminthic effect. In the conventional dosage form of suspension they have less solubility and less dissolution rate due to their improper particle size and size variation they directly effect on their solubility property so high-speed homogenization and sonication is the best way to overcome this problem. This anthelmintic nano-suspension work on parasitic infection to kill or paralysed the worm present in the intestine. The polymer-coated Nano-suspension are show the good therapeutic effect and greater bioavailability.
Acknowledgment-
The authors express their heartfelt gratitude to Sharadchandra Pawar College of Pharmacy, Dumbarwadi, Otur, the college library, and all other sources for their cooperation and guidance in writing this review article.
Source of Funding - There is no any source of funding for my review study.
Conflict of Interest- There are no conflicts of interest and disclosures regarding the manuscript.
Authors' Contribution-The concept and Design of the study were done by Shubham Shinde, Shubhrajit Mantry. Data acquisition and analysis were done by Shubham Shinde. Manuscript preparation, editing done by Shubham Shinde.
References:
1. Cholewiski M, Derda M, Hada E. Parasitic diseases in humans transmitted by vectors. Ann Parasitol. 2015;61(3):137–57.
2. Afifi SA, Hassan MA, Abdelhameed AS, Elkhodairy KA. Nano-suspension: An emerging trend for bioavailability enhancement of etodolac. Int J Polym Sci. 2015;2015.
3. Cox FEG. History of human parasitology. Clin Microbiol Rev. 2002;15(4):595–612.
4. Sawatdee S, Atipairin A, Yoon AS, Srichana T, Changan N, Suwandecha T. Formulation development of albendazole-loaded self-micro emulsifying chewable tablets to enhance dissolution and bioavailability. Pharmaceutics. 2019;11(3).
5. Chandra A, Kumar Soni R, Sharma U, Jain SK. NANO-SUSPENSION: AN OVERVIEW. J Drug Deliv Ther. 2011;2013(3):162.
6. Araújo A, Reinhard K, Ferreira LF, Pucu E, Chieffi PP. Paleoparasitology: The origin of human parasites. Arq Neuropsiquiatr. 2013;71(9 B):722–6.
7. Geerts S, Gryseels B. Drug resistance in human helminths: current situation and lessons from livestock. Clin Microbiol Rev. 2000;13(2):207–22.
8. Soltysiak Z, Rokicki J. Histopathological diagnosis in parasitic diseases Anisakidae taxonomy and phylogeny View project Phylogeny of Contracaecum family View project 73 PUBLICATIONS 271 CITATIONS SEE PROFILE. Ann Parasitol. 2014;60(2):127–31.
9. Vanden Bossche H. Studies of the mode of action of anthelmintic drugs: Tools to investigate the biochemical peculiarities of helminths. Ann Parasitol Hum Comp. 1990;65(SUPPL. 1):99–102.
10. Yadav P, Singh R. A review on anthelmintic drugs and their future scope. Int J Pharm Pharm Sci. 2011;3(3):17–21.
11. Holden-Dye L, Walker RJ. Anthelmintic drugs. WormBook. 2007;1–13.
12. Salem HF, Kharshoum RM. Nanoprecipitation technique for preparation of sterically stabilized risperidone nano-suspension: In vitro and in vivo study. Int J Pharm Pharm Sci. 2016;8(5):136–42.
13. Shariare MH, Altamimi MA, Marzan AL, Tabassum R, Jahan B, Reza HM, et al. In vitro dissolution and bioavailability study of furosemide nano-suspension prepared using design of experiment (DoE). Saudi Pharm J. 2019;27(1):96–105.
14. Agrawal Y, Patel V. Nano-suspension: An approach to enhance the solubility of drugs. J Adv Pharm Technol Res. 2011;2(2):81.
15. Rao Y, Kumar M, Apte S. Formulation of Nano-suspensions of Albendazole for Oral Administration. Curr Nanosci. 2008;4(1):53–8.
16. Zhang J, Xie Z, Zhang N, Zhong J. Nano-suspension drug delivery system: preparation, characterization, postproduction processing, dosage form, and application [Internet]. Nanostructures for Drug Delivery. Elsevier Inc.; 2017. 413–443 p. Available from: http://dx.doi.org/10.1016/B978-0-323-46143-6/00013-0
17. Patel AA, Patel RJ, Mishra P. Nano-suspension for oral delivery of tadalafil: Pharmacodynamic and pharmacokinetic studies. J Drug Deliv Sci Technol [Internet]. 2021;61(October):102203. Available from: https://doi.org/10.1016/j.jddst.2020.102203
18. Nixon SA, Welz C, Woods DJ, Costa-Junior L, Zamanian M, Martin RJ. Where are all the anthelmintics? Challenges and opportunities on the path to new anthelmintics. Int J Parasitol Drugs Drug Resist. 2020;14(July):8–16.
19. Gundamaraju R. Evaluation of anti-helminthic activity of Ferula foetida " Hing- A natural Indian spice" aqueous extract. Asian Pacific J Trop Dis. 2013;3(3):189–91.