IJCRR - 13(12), June, 2021
Pages: 197-201

Date of Publication: 22-Jun-2021
Print Article
Download XML
Download PDF
An Ayurvedic Protocol to Manage Myopia in a 6-Year-Old Child: A Case Report
Author: Sreekanth Nelliakkattu Parameswaran, Ratna Prava Mishra, Jaya Sankar Mund
Category: Healthcare
Abstract:Introduction: Myopia is a leading cause of visual impairment in children, especially schoolchildren. Prescription of spectacles is the sought-after modality of managing myopia. However, these neither correct nor prevent the progression of the refractive error. The cardinal symptom of myopia, the inability to see distant objects, may be compared with Timira (blurring of vision) in Ayurveda. Case Report: A 6-year-old boy with the blurring of vision that was more in his right eye (OD) and who was previously diagnosed with myopia is presented here. He underwent a specially-tailored Ayurvedic treatment protocol comprising of oral medicines, Netra Kriyakalpa (local ocular therapeutics), and treatments for the head. Results: Visual acuity improved to LogMAR 1.301 in the right eye OD at discharge and was maintained at a subsequent follow-up. Conclusion: The main challenge was maintaining and improving vision. The results indicate the potential of Ayurvedic treatments to both manage myopia and to maintain, and improve in some cases, vision in children
Keywords: Alternative methods, Ayurveda, Case Report, Kriyakalpa, Refractive error, Timira
Full Text:
Introduction
Uncorrected refractive errors are among the top causes of both visual impairment and blindness as per Vision 2020.1 Among these, myopia is the leading cause of visual impairment in children, with a rapid increase in prevalence.2 Myopia presents significant economic and societal impacts on individuals.3 The Consortium for Refractive Error and Myopia (CREAM) study demonstrated that myopia's aetiology is multi-factorial rather than a single mechanism.4 Conventional management options for myopia have either short-term benefits or significant side effects.5 In light of the above, treatment options in contemporary and alternative medicine (CAM), including Ayurveda, may be sought.
The case of a 6-year-old male patient diagnosed with myopia and who underwent Ayurvedic treatments is presented in this report. The CARE guidelines were adhered to for ensuring transparency and effectiveness in reporting.6 Written informed consent was obtained from the parents. Institutional ethics committee clearance was not required to prepare this report.
Case Report
The patient presented with a blurring of vision that was more in his right eye (OD) since birth. He was inclined to watch television very closely and had difficulty in distant vision. He was diagnosed with myopia by an ophthalmologist and was advised of power spectacles, which he did not use. No significant illnesses were reported. His immediate family members do not complain of similar symptoms. The bowel was constipated and appetite, micturition, and sleep were normal. Review of systems and vital signs were within normal limits.
Unaided distant visual acuity was LogMAR 1.477 OD and LogMAR 0.301 in his left eye (OS). A -11.00 diopter (D) lens with a -1.50D cylinder and 50° axis corrected his vision OD to LogMAR 0.778, and a -1.25D lens with a -1.5D cylinder and 150° axis corrected his vision OS to LogMAR 0.176. Near visual acuity was N6 in both eyes (OU). His anterior segment showed a normal sclera and cornea, deep anterior chamber, and normal lens OU. Direct and consensual pupillary reflexes were sluggish OD and normal OS. Posterior segment examination by ophthalmoscopy showed normal media in both eyes (OU), optic disc with normal cup-to-disc ratio and absence of temporal crescent OU, healthy blood vessels with normal calibre OU, normal background with the absence of tessellations and retinal thinning OS, and lattice degeneration OD.
The patient was diagnosed with myopia and was prescribed a 13-day course of inpatient Ayurvedic treatment, which comprised oral medicines (Table 1), Netra Kriyakalpa, and treatments for the head (Table 2). Panchakarma(bio-purification) therapies were not attempted on this patient as he was underage. He has advised foods rich in vitamins A, C, and E, coloured fruits, and green leafy vegetables.
RESULTS
Unaided DVA improved to LogMAR 1.301 OD and other readings were maintained. A follow-up consultation demonstrated the same readings in unaided DVA.
All medicines were manufactured by SreedhareeyamFarmherbs India, Pvt. Ltd., the hospital's GMP-certified drug manufacturing unit.
A timeline of events is provided (Table 3).
Discussion
The condition of DvitiyaPatalagataDosha (humours invading the second layer of the eye) was explored based on the symptoms of this patient. The Lakshana (feature) of "DurantikasthamRupamca(unable to perceive distant objects)"7 matched the patient's symptoms. Tamira is named when the Doshasinvade the third Patala as per Susrutaand the second Patalaas per Vagbhata.
Medicines employed were not Tikshna (sharp) by nature due to the Saukumaryata (tender and delicate body structure), Alpakayata (under-developed organs), Vividha Anna Anupasevana (unfit GIT to receive all types of food), AparipakvaDhatu (tissues under the progression of transformation), AkleshaSahatva (stress intolerance), and AsampurnaBala (poor immunity).
The oral medicines were Cakshushya (good for eyes), Brmhana (nourishing), and Vata Hara (pacify Vata). The external therapies promoted vision and strengthened the eyes and the nerves. Snigdha(unctuous) medicines were for both Pushti(nourishment) as well as relieving Timira, a NanatmajaVikara of Vata according to CarakaSamhita.
Wisetone, prepared from Asparagus racemosusLinn.,ZingiberofficinaleRosc., Piper longumLinn., Piper nigrumLinn., HolostemmaadakodienR.Br., and GlycyrrhyzaglabraLinn., enhances the activity of the neurons. KasyapaGhrtaand KasyapaKvathaareprepared from Terminalia chebulaRetz., Terminalia bellericaLinn., EmblicaofficinalisGaertn., AdathodavasicaNees., and BerberisaristataDC, and are indicated in Drishti Rogas. Eye Plus is prepared from Terminalia chebulaRetz.,Terminalia bellerica Linn., EmblicaofficinalisGaertn., and PicorrhizakurroaRoyle ex. Benth, and is Ropanaby nature and indicated for all eye conditions. Sunetra Junior is prepared from NelumbonuciferaGaertn., Ocimum sanctum Linn., Cinnamomumcamphora(L.) Presl., and is indicated in eye conditions of patients under 16 years of age. JatavedhaGhrta is prepared from Terminalia chebulaRetz.,Terminalia bellericaLinn, EmblicaofficinalisGaertn., and HolostemmaadakodienR.Br., and is used for Tarpana in Drishti Rogas. Vinayakanjana is prepared from NelumbonuciferaGaertn., and distilled water, and is indicated in all eye diseases.
Netra Dhara, a variety of classical Seka8 practised in Sreedhareeyam, was done to cleanse the eyes and to prevent the increase of Kapha due to the application of Sneha. Anjana, done in the manner of classical Ascyotana9, promoted vision. Drishti Prasadanaand Tarpana was done to strengthen the nerves and to promote vision. The Snehaused for both procedures was Vata Hara. Anna Lepa was done for further pacification of Vata.
Conclusion
The main challenge, in this case, was an improvement of vision. However, improvement was observed due to healthy Dhatusbeing formed by the treatments, and the ability of the patient's body to acclimatize to the medicines. Usage of medicines that were Brmhana, Samana, Mrdu, and Madhura, as well as external therapies that employed application of Ghrta and Taila facilitated the formation of a healthy physique as well as strengthened the nerves. The results may be validated with large-scale sample trials and studies.
Acknowledgement
The authors acknowledge Sreedhareeyam Ayurvedic Eye Hospital and Research Center, and Sreedhareeyam Farmherbs India Pvt. Ltd., for their help in preparing this case report. The authors acknowledge the immense help received from the scholars whose articles are cited and included in references of this manuscript. The authors are also grateful to the authors/editors/publishers of all those articles, journals, and books from where the literature for this article has been reviewed and discussed.
Conflicts of Interest: None declared
Sources of Funding: None declared
Abbreviations:
DVA: distant visual acuity
NVA: near visual acuity
LogMAR: logarithm of the minimal angle of resolution
OD: oculus dexter
OS: oculus sinister
OU: oculus uterque
AUTHOR'S CONTRIBUTIONS
Dr. Sreekanth N. P. conceptualized the article, collected and interpreted the data, and wrote the article.

Dr. RatnaPrava Mishra reviewed the article and interpreted the data.

Dr. Jaya Shankar Mundreviewed the article and interpreted the data.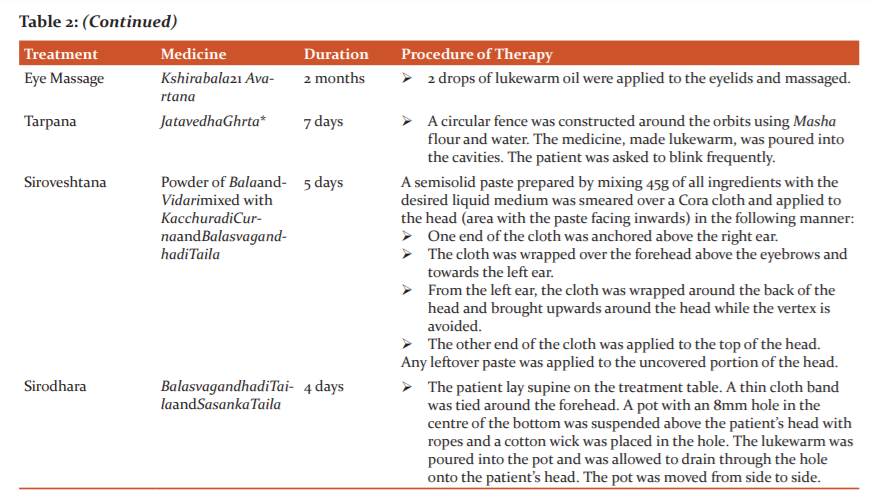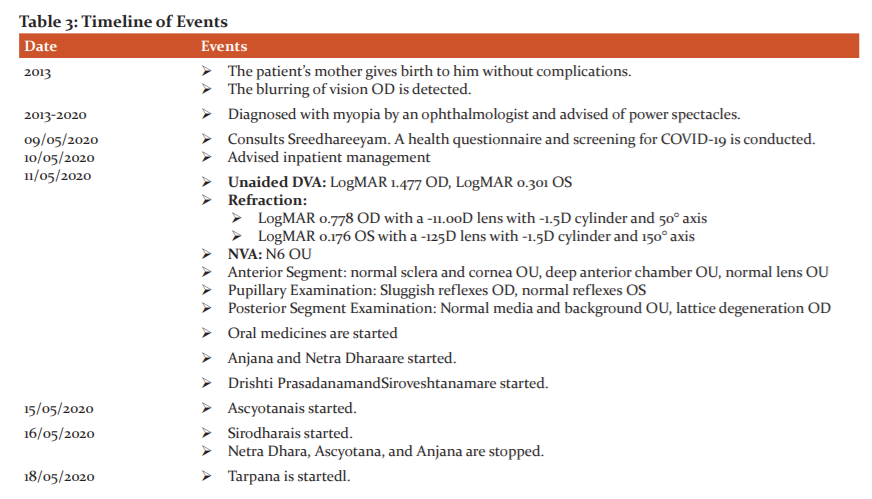 References:
The International Agency for the Prevention of Blindness, Global Vision Impairment Facts, 2020, https://www.iapb.org/vision-2020/who-facts/

Fricke TR, Jong M, Naidoo KS, et al, Global prevalence of vision impairment associated with myopic macular degeneration and temporal trends from 2000-2050: systematic review, meta-analysis, and modelling, Br J Ophthalmol, 2018; 102(7): 855-862

Wong HB, Machin D, Tan SB, Wong TY, Saw SM, Visual impairment and its impact on health-related quality of life in adolescents, Am J Ophthalmol, 2009; 147(3): 505-511

Smith TS, Frick KD, Holden BA, Fricke TR, Naidoo KS, Potential lost productivity resulting from the global burden of uncorrected refractive error, Bull World Health Organ, 2009; 87(6): 431-437

Gwiazda J, Treatment options for myopia, Optom Vis Sci, 2009; 89(6): 624-628

Gagnier J, Kienle G, Altman DG, Moher D, Sox H, Riley DS, CARE group, The CARE guidelines: Consensus-based clinical case-reporting guideline development, GlobAdvHealth Med, 2013;2(5): 38-43

Murthy KRS, Ashtangahrdaya of Vagbhata: Text, English Translation, Notes, Appendices, and Index, Vol. III: Uttara Sthana, Krishnadas Academy, Varanasi, 2000, 121 pg.

Murthy PHC, Sarngadhara Samhita: Text with English Translation, Chaukhambha Sanskrit Series Office, Varanasi, 2013, pg. 188

Murthy KRS, AshtangaHrdaya: Text, English Translation, Notes, Appendices, and Index, Vol. 1: Sutra &SariraSthana, Krishnadas Academy, Varanasi, 121 pg.