IJCRR - 2(4), April, 2010
Pages: 52-55

Print Article Download XML Download PDF
ANTI BACTERIAL ACTIVITY OF BARK EXTRACTS OF PTEROCARPUS MARSUPIUM ROXB.
Author: H.R.Ambujakshi
Category: General Sciences
Abstract:Anti bacterial activity of ethanol and water extracts of barks of Pterocrpus marsupium were tested by cup-plate agar diffusion method against Staphylococcus aureus, Bacillus sterothermophilus (Gram +ve) and Eschericia coli , Klebsiella pneumoniae (Gram -ve) bacteria. Ciprofloxacin was used as the standard. It was observed that all extracts have dose dependent inhibitory effect, ethanol extract being most effective.
Keywords: Antibacterial, Pterocrpus marsupium, cup-plate.
Full Text:
Pterocarpus marsupium Roxb.(Leguminosae) is also known as Indian Kino tree or Bijasar, is common in the hilly regions of central and peninsular india1 .The extracts of leaves, flowers and gum obtained from the stem of this tree have been used medicinally in the treatment of diarrhea, toothache, fever, urinary tract and skin infections2 .The extract of the bark has been regarded as useful in the therapy of diabetes3 .The aqueous extract of the stem bark was found to reduce the blood glucose level in alloxan - induced diabetic rats4 . The ethnic uses includes the use of stem bark of this species in treating wounds, fever, stomachache, diabetes and jaundice5 .The current study was undertaken to evaluate the antibacterial activity of ethanol and water extracts of Pterocarpus marsupium Ethanol and water extracts were tested against Staphylococcus aureus, Bacillus sterothermophilus (Gram +ve) and Eschericia coli , Klebsiella pneumoniae (Gram -ve). Ciprofloxacin was used as the standard
Materials and Methods Plant material
The fresh barks of Pterocarpus marsupium Roxb were collected from the Jeddu Ayurveda vanaspathi abivriddi parishat, Bantwal Taluk, D.K. District, Karnataka.
Extraction of plant material
The barks were dried under sunny condition at ambient temperature and then ground by using grinder, to coarse powder and the powder was packed in soxhlet column and extracted with ethanol for 24 hrs. Successively drug is boiled for 30min using distilled water. The extracts were concentrated under reduced pressure at 50� C using rotary evaporator to a powder mass, which was then stored at 40� C until used. Crude extract was subjected to preliminary phytochemical screening to characterize the phyto constituents present.
Screening for antibacterial activity
Antibacterial activity was tested by cup-plate agar diffusion method to determine the zone of inhibition of two extracts. The extracts were freshly reconstituted with suitable solvents (H2O / DMSO) tested at concentration of 800 and 400 µg/ml against all the microorganisms. Ciprofloxacin (Himedia laboratories, Mumbai,) were separately dissolved in DMSO to give a concentration of Ciprofloxin 20 µg/ml.
Sterile nutrient agar plates were prepared and 0.1 ml of 4he inoculums from standardized culture of test organism was spread uniformly. Wells were prepared by using a sterile borer of diameter 10mm and 100µl of the test substance, standard antibiotic and the solvent control were added in each well separately. The plates were placed at 4 0C for 1 h to allow the diffusion of test solution into the medium and plates were incubated at 370C for 24 h and the zone of inhibition of microbial growth around the well was measured in mm.
Result and discussion:
Preliminary phytochemical studies revealed the presence of tannins, flavonoids and glycosides. From the zone of inhibition produced by the extracts, it was observed that a concentration dependent antibacterial activity was observed with both alcoholic and water extracts. The alcohol extract was more potent than water extract. The antimicrobial activity may be due to the presence of tannins. Other constituents like flavonoids may also contribute to the activity.
Acknowledgement:
Authors are thankful to Mr. Premnath Reddy, Chairman, Acharya & B.M. Reddy College of Pharmacy, Bangalore for providing laboratory facilities to carry out this project.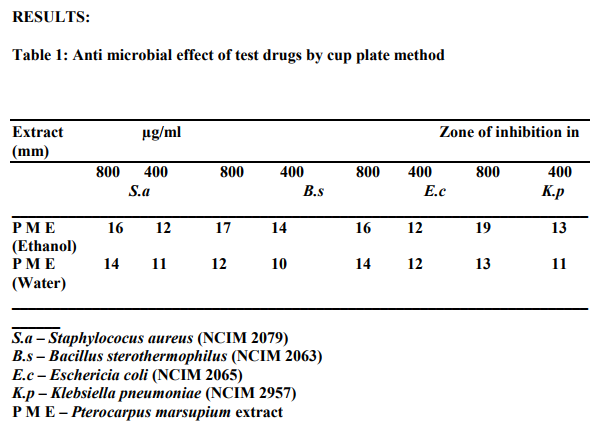 References:
1. Jain, S. K., Medicinal plants, National Book Trust, New Delhi, 1968, p.116
2. Chopra R N, Nayar SL, Chopra IC, Glossary of Indian medicinal plants. New Delhi: CSIR: 1956.
3. Kirtikar, K.R and Basu, B.D., Indian Medicinal plants, 2nd Ed., Delhi, India, 1975,272
4. Vats V. Grover Jk, Rathi SS., J. Ethnopharmacol.2002, 79, 95-100.
5. Mankni K.L, Krishna V, Manjunath B.K, Vidya S.M, Jagadeesh Singh S.D, Manohara Y.N, AneesurRaheman, Avinash k.R, Indian J Pharmacol. June 2005, 37, 3, 165-168
6. Ali Ms, Ahmad VU, Usmanghani K, Azhar I and Amtul Z.,Fitopteropia,1999, 70; 299-304