IJCRR - 2(12), December, 2010
Pages: 32-40

Print Article Download XML Download PDF
PHARMACEUTICAL RESEARCH AND DEVELOPMENT -CASE STUDY OF INDIAN PHARMACEUTICAL INDUSTRY
Author: Manthan D. Janodia, D.Sreedhar, Virendra S.Ligade, Ajay G Pise, Nayanabhirama Udupa
Category: Healthcare
Abstract:Pharmaceutical Research and Development (RandD) is time consuming, risky and costly. It takes roughly about USD 1 billion to develop and commercialize a new drug. Indian pharmaceutical companies were not engaged in basic research and the amount spent on RandD was very low. With adherence to Trade Related Aspects of Intellectual Property Rights (TRIPS) agreement Indian pharmaceutical companies have increase the amount spent on RandD. This study discusses the current RandD scenario in India.
Full Text:
INTRODUCTION
The progress of a country depends on its economic, social and technological advancement. It is important for a country to achieve economic and technological progress which may eventually lead to social progress. Instruments of Intellectual Property Rights are considered to achieve economic, social and technological advancement for a country in all aspects. Of all the instruments of Intellectual Property Rights, patent is the most contentious issue which is deliberated in several international fora. Patents are mostly debated for its role in pharmaceutical field. The debate on Intellectual Property Rights is continuing with proponents viewing it as a tool for country?s development which in turn would result in social and economic development; whereas the opponents view it as impeding technological development and social upliftment of people in developing countries. The major implications of the Intellectual Property Rights are debated for pharmaceutical industry where the issue of access and affordability of medicines is a prime concern. Whether patents promote technological, economic and social progress in developing countries is to be ascertained.
PATENT SYSTEM IN DEVELOPED AND DEVELOPING COUNTRIES
Viewing patent system differently and taking into account the factor that the implications for patents for developed countries and developing countries would be different, developing countries vociferously objected to the adoption of patent system specifically for pharmaceuticals. As developing countries are faced with the problem of increased healthcare burden, availability of affordable medicines is a roadblock for these countries. Developing countries seek alternative strategies to meet the growing healthcare needs of their population. History shows that countries have fine tuned their Intellectual protection regimes according to their developmental requirements (Kumar, 2003). Many of today?s developed countries have a history of excluding pharmaceutical product patents. The examples include Germany until 1968; France, 1960; Japan, 1976; Switzerland until 1977; Italy until 1978; Spain until 1992; Portugal until 1992; Norway until 1992; Finland until 1995, and Iceland until 1997. (Scherer and Watal, 2001; Nogues, 1990). This clearly shows that countries need to adopt a flexible system with regard to patent that would help advancement of country technologically, socially and economically. An ideal regime of Intellectual Property Rights strikes to balance private incentive for innovators and maximizing access to the fruits of innovation for public interest (Mashelkar, 2001). Correa (2000) argues that any IPR system must try to strike a balance between creating incentives for innovators and consumer?s interest. Developed and several developing countries are members of World Trade Organization and have implemented the provisions of Trade Related Aspects of Intellectual Property Rights (TRIPS) agreement in their national laws to provide for patent protection for all fields of technology. Many countries like India and Brazil provided only process patent and not product patent for pharmaceutical products.
PHARMACEUTICAL RESEARCH AND DEVELOPMENT
Pharmaceutical Industry is research driven and the amount spent on RandD is quite high. It requires an average of 12 years for a single drug to reach market after its extensive evaluation for safety, quality and efficacy. The cost of development to commercialization is estimated at 800 million to 1 billion US dollars according to various reports and it is increasing with regulatory agencies adopting stringent norms for approval of a drug, Out of 10,000 molecules that are preliminary screened for their potential action, only one or two are successfully commercialized after extensive testing and regulatory approval. Companies require regulatory approval at each and every stage of clinical testing to proceed further with research, which again is time consuming and requires substantial financial resources. The financial resources are also required for preclinical and clinical testing of drugs which takes a decade to complete and for about 50% of total cost of drug development. (Grabovski, 2002)
RESEARCH and DEVELOPMENT BY INDIAN PHARMA COMPANIES
With adherence to TRIPS agreement, significant improvements have been observed among Indian pharmaceutical companies. Amount spent on RandD by companies has increased substantially. Table 1 shows the RandD expenditure as a percentage of sales for a few Indian pharma companies in 2004. It is evident that RandD in Indian pharmaceutical industry is gaining momentum (Sanghi, 2005). In absolute terms, RandD budgets in the Indian pharma industry have risen several times. RandD expenditure by Indian pharmaceutical industry was Rs.220 crores in 1997-1998 which rose to Rs.260 crores in 1998-1999 and Rs.320 crores in 1999-2000 and to Rs.495 Crores in 2005-06. The majority of RandD is conducted by 15 top Indian companies (IBEF, 2006). India?s Pharmaceutical expenditure is shown in the table 2. Since then the amount spent on RandD by Indian pharmaceutical companies have increased manifold. Some of the big companies have started investing 12 to 14 % of their total turnover for RandD activity. This is a progressive sign on the part of Indian pharmaceutical companies. Table 3 show the amount spent on RandD by a few top Indian companies during last five years. It is seen that company like Dr. Reddy?s have spent almost 18% of total sales revenue on RandD during 2004-2005. Many companies started investing heavily during last five years as it became imminent that Indian pharmaceutical companies have to adopt product patent regime and compete with multinational pharmaceutical giants on a level playing field. Though these figures are not comparable with the huge amount spent by MNCs on pharmaceutical RandD, it is a clear indication that expenditure on RandD has substantially increased in recent years. The outcome of increase in RandD is observed as quite a few numbers of patents are filed by Indian pharmaceutical companies in India and the US.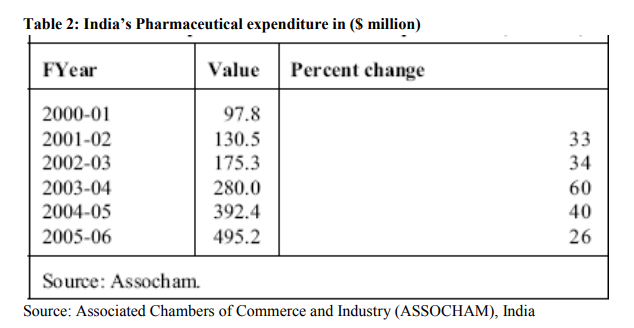 PATENTING BY INDIAN PHARMA COMPANIES
The amount spent on RandD by Indian pharmaceutical companies is in corroboration with the number of patents filed by some of the Indian pharmaceutical companies with the United States Patents and Trademarks Office (USPTO). The number of patents filed by Indian pharmaceutical companies in the last decade with the USPTO has increased substantially. Though a strict correlation between the amount spent on RandD and number of patents filed cannot be established, it nevertheless gives a positive image of Indian pharmaceutical companies with respect to their commitment for RandD and filing of patent application in India and abroad. By closely looking at the figures in table 2, it is quite noteworthy that before 1995 not a single Indian company had patent in the US. Incidentally, 1995 was the year from which India agreed to grant product patent with respect to all fields of technology, including pharmaceuticals, for a uniform period of 20 years. Even after 1995, the performance of these companies in acquiring US patents was abysmal. Majority of the pharma companies got patents after 2000. Only Council of Scientific and Industrial Research (CSIR), India has applied for and acquired US patents. Even then, the patents granted to CSIR include patents in all classes and not only related to drugs and pharmaceuticals. This apathy towards understanding importance of patent is resolved and the Indian companies are aggressive in their approach for filing and acquiring patents. Indian companies have increased patent filing after 1995. This may be attributed to the fact that the process of acquiring patents takes a few years. One of the plausible reasons could be filing of patents immediately after India adhered to the TRIPS agreement. These companies thought of the inevitable and prepared themselves to face challenges imposed by TRIPS. Among the pharma companies,
Ranbaxy Laboratories Ltd is the frontrunner in acquiring US patents, with 77 patents to its credit from 1969 to 2006. Dr Reddy?s comes a close second, with 52 US patents from 1995 to 2006 (Patents for Dr Reddy?s Research Foundation (30 patents) and Dr Reddy?s Laboratories Ltd (22 patents) combined together). The other major pharmaceutical companies have less than 20 patents each. This can be seen in Table 4. It is not known whether these patents are process or product patents (Chaudhary, 2007), as further classification is not provided by USPTO (Janodia, 2008). The list provided here in the table is indicative of companies that have filed patents with USPTO. Many more companies may have filed for more number of patents which are not listed as the list provided by USPTO is till year 2006. It can be safely assumed that many more US patents may be acquired by Indian pharmaceutical companies after 2006. The comparison of CSIR with pharmaceutical companies is not with respect to pharmaceutical patents. CSIR has acquired patents in all fields of technology and not only related to pharmaceutical products (Janodia, 2008). The comparison of patents acquired by Indian pharma companies with CSIR is indicative only.
PIPELINE OF MOLECULES OF THE INDIAN PHARMA COMPANIES
Despite increase in RandD spend and number of patents, Indian pharmaceutical industry is not able to come out with a new successful drug molecule in the market. Yet the pipeline of a few Indian companies is promising as a few molecules are at certain stage of development. Another striking feature of RandD in India is that Indian pharma companies RandD expenditure is focused towards "global diseases" like obesity, diabetes, hypertension, cancer rather than diseases affecting developing countries. As these therapeutic segments offer more lucrative opportunities, companies are specifically focused on developing molecules for these segments. On the flip side, Indian companies are ignoring the RandD efforts for tropical diseases such as Malaria, Filariasis, Tuberculosis, Leishmaniasis that are more prevalent in India. Following table shows the progress made by Indian pharma companies in terms of New Chemical Entity (NCE) research.
CONCLUSION
Research and Development is a long and risky business with a huge amount at stake and the chances of success are less. Further, it takes a long time to develop and commercialize a new drug. With challenges posed by the Trade Related Aspects of Intellectual Property Rights (TRIPS) Agreement, Indian pharma companies have geared up themselves. The amount spent on RandD has increased among Indian pharmaceutical companies in recent years and many companies are actively involved in basic research to come out with new drugs. Increase in budget for RandD shows that Indian pharma companies are committed to RandD activities.
References:
1. Kumar, Nagesh, Intellectual Property Rights, Technology and Economic Development - Experiences of Asian Countries, Economic and Political Weekly, 2003, 209-225.
2. Correa Carlos, Integrating Public Health concerns into patent legislation in developing countries, Geneva, South Centre, 2000. (http://www.southcentre.org/publicat ions/publichealth/publichealth.pdf).
3. Scherer F.M., Watal Jayashree, Post Trips Options For Access to Patented Medicines in Developing Countries, CMH Working Paper Series - Paper No.WG4 : 1, June 2001, 4.
4. Julio Nogues, Patents and Pharmaceutical Drugs - Understanding the Pressures on the developing countries, Working Papers, International Economics Department, The World Bank, September 1990, WPS 502, 3. (cited http://wwwwds.worldbank.org/servlet/WDSCon tentServer/WDSP/IB/1990/09/01/00 0009265_3960929170142/Rendered/ PDF/multi0page.pdf date 10-04-06).
5. Grabowski H., Patents, Innovation and Access to New Pharmaceuticals, Journal of International Economic Law, 5(4), 2002: 849-860
6. Sanghi Mahendra K., Pharmaceutical Industry in India - An overview, 2005
7. Pharmaceuticals - A Report by Ernst and Young for IBEF accessed from www.ibef.org on 30-03-2006
8. Mashelkar R.A., Intellectual property rights and the Third World, Current Science, 81(8), 2001; 955.
9. Chaudhuri Sudip, Is Product Patent Protection Necessary in Developing Countries for Innovation? RandD by Indian Pharmaceutical Companies after TRIPS, Indian Institute of Management Calcutta, WPS No. 614/ September 2007; 16.
10. Janodia M.D., Sreedhar D., Ligade V.S., Udupa N., US Patents granted to Indian pharmaceutical companies, Current Science, 95(4), 2008:435-436.