IJCRR - Vol 09 Issue 12, June, 2017
Pages: 39-48
Date of Publication: 24-Jun-2017
Print Article
Download XML
Download PDF
To Mask the Bitter Taste of Rizatriptan Benzoate and Develop Water Dispersible Tablets
Author: Chilate Vikrant C., Godbole Mangesh D., Sonaye Harsha V., Doifode C.A.
Category: Healthcare
Abstract:Introduction: Rizatriptan benzoate is anti migraine drug. Report indicates that, it has very bitter taste, which deters its use in geriatrics patient thus not comply with prescription that results in high incidence of non-compliance and ineffective therapy.
Aim: To mask the bitter taste of Rizatriptan benzoate and develop water dispersible tablets.
Methodology: The sweetener like aspartame was use in variable ratio with drug. Physical mixture of Rizatriptan benzoate with Aspartame (1:5 ratio) were rated most effective (0.4) by the panel of tastes. The other used sweeteners did not prove to be very effective for masking of bitter taste as indicated by the high rating of bitterness score 2-3 and 3-4 by panel of human tastes. Water dispersible tablets of Rizatriptan benzoate was formulated by direct compression method using physical mixture of drug: aspartame with superdisintegrants viz. sodium starch glycolate, croscarmilose sodium and crospovidone in variable ratios.
Result: All the formulation batches passed the weight variation test, disintegration test and uniformity of dispersion test and offered good mechanical strength.
Discussion: The combination of sodium starch glycolate with crospovidone in the ratio of 1:2 given best result (disintegration time 19.18 sec), the disintegration time was decreased from 32 to 19 sec.
Conclusion: All formulation batches released more than 98% of drug within 30 min.
Keywords: Water dispersible tablet, Rizatriptan benzoate, Aspartame, Sodium starch glycolate, Cross povidone, Sodium carboxymethyl cellulose, Magnesium stearate, Aerosil
Full Text:
Introduction:
Since the development cost of a new drug molecule is very high, efforts are now being made to focus on the development of new drug dosage forms for existing drugs with improved safety and efficacy, bioavailability together with reduced dosing frequency and the production of more cost effective dosage forms. Drug dissolution and absorption as well as onset of clinical effect and drug bioavailability may be significantly greater than those observed from conventional dosage forms.2 The tablet is just one of the many forms that an oral drug can take such as syrups, elixirs, suspensions and emulsions. It consists of an active pharmaceutical ingredient (A.P.I.) with biologically inert excipients in a compressed  solid form.3 Dispersible tablets offer advantage for patients who have difficulty in swallowing. Patients for whom chewing is difficult or painful can use these new tablets easily. Dispersible tablets can be used easily for pediatric patients who have lost their primary teeth but do not have full use of their permanent teeth.4
Challenges to develop water dispersible tablets
Avoid increase in tablet size
Rapid disintegration of tablet

Have sufficient mechanical strength

Minimum or no residue in mouth

Protection from moisture

Good package design

Compatible with taste masking technology

Not affected by drug properties5
There is need for non-invasive delivery systems persists due to patients poor acceptance of and compliance with, existing delivery regimes, limited market size for drug companies and drug uses, coupled with high cost of disease management. 6
Materials and METHODS:
Rizatriptan benzoate was received as gift sample from Alkem Labs. Ltd. Mumbai. Kyron, Microcrystalline cellulose, Sodium starch glycolate, Cross povidone, Aspartame, Sodium carboxymethyl cellulose, Magnesium stearate, Aerosil were  gift samples from Alkem Labs. Ltd. Mumbai.
Characterization of drug and excipients
Characterization of Drug:
a) Appearance : Recorded by physical texture  of drug
b) Organoleptic Properties: Taste of sample was tested by panel of tastes following physical properties of drug were studied
c) Determination of melting point: Determined using glass capillary method by using thermometer10
d) Solubility analysis:
Excess quantities of drug were added in to the 5 ml of each of distilled water, phosphate buffer (pH 6.8) and 1.0 M HCl contained in 25 ml glass vials and were shaken at constant temperature 37 ±1oC over a period of 24 hr by recording absorbance using respective medium as blank15
e) Loss on Drying: Accurately about 1 gm Rizatriptan was weighed and the powder was kept in oven for 6 hr at 105oC. At interval of 2hr the moisture content was calculated15
Analytical Method
A validated Double Beam UV Spectrophotometer Model No. UV 1700 , Shimandzu using pH 6.8 phosphate buffer in the range of 400 nm to 200 nm for the estimation of drug
Characterization of Bulk Drug and Effect of Various Formulation Excipients
The infrared (IR) spectrum obtained FTIR Spectrophotometer Model -8300 (Shimadzu, Tokyo, Japan) was compared with that of the standard. To study the compatibility of various formulation excipients with Rizatriptan benzoate , solid admixtures were stored at 40 ± 20C temperature with relative humidity of  RH 75 ± 5 % for 30 days.
Determination of λmax in UV range
Solution of 50 μg/ml concentrations was scanned in the range of 400 nm to 200 nm using distilled water as blank and λmax was noted. Similarly, the λmax values for solutions of drug in 0.1M HCl and phosphate buffer pH 6.8 were determined using corresponding solution as blank.
Thermal behavior by differential scanning calorimetric
Heating at the rate of 100C/min in the range of 30 to 6000C. Air was purged at the rate 50 ml/min.
 X-ray diffraction:
X-ray scattering measurements on Rizatriptan benzoate was carried out at a voltage of 40 kV and current of 25 mA using Cr as a tube anode material. The solid were exposed to Cu –K radiation angles from 10°- 70°.63
Evaluation of taste of Rizatriptan benzoate and its taste modified forms by panel method
Healthy human volunteers of either sex in the age group of 20-30 yrs were selected. The procedure was carried out as follows.
Coding of drug and its taste modified forms was done using non-overlapping abbreviations.
About 5 ml dispersion of drug powder (equivalent to unit dose) in water was used.

Dispersion was held in oral cavity for 15 sec by the volunteers.

Content was split off from oral cavity by the volunteers into wash basin.

The oral cavity was rinsed with sufficiently large volume of purified water until the after taste of drug is completely ceased.

Same procedure was followed for all the taste modified form of Rizatriptan benzoate.

 The volunteers were asked to rate both pure drug as well as the individual modified drug samples i.e. resinates in the scale of 0 to 4 as follows,
0     - No bitter taste
            1     - Slightly bitter taste
            2     - Moderately bitter taste
            3     - Strong bitter taste
               4     - Very strong bitter taste
The scores from each volunteer were compared carefully and the most suitable approach (ratio 0-1) was judged.12
Formulation of water dispersible tablets using most suitable approach of taste masking
The ingredients were weighed, mixed in geometrical order and compressed by 8 mm size punch to get a tablet of 200 mg weight using 12 station single rotary Rimak tablet compression machine.
Manufacturing procedure: For Trial No. 01 and 18
Dispense and weigh accurately all other ingredients as per batch formula and then mix well Rizatriptan Benzoate and Microcrystalline cellulose (PH101) sift  through #  mesh and other ingredients sift through # 40 mesh.
      2) Transfer the step 2 material for blending into the mortar pestle.
      3) Sift magnesium stearate through 60#.
     4) Compressed the above blend obtained in with their respective punch (punch No.7)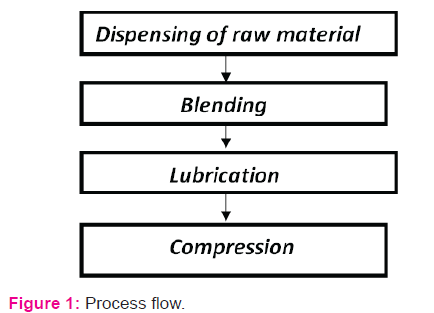 Evaluation of taste masked water dispersible tablets
Appearance: Tablets were examined for texture, any surface flaws like cracks and chips.
Weight variation: The average weight was calculated and individual tablet weight was then compared with average value and the deviation was recorded.
Friability: For this, weight of 10 tablets of each formulation type was recorded and these tablets were then subjected to combined effects of abrasion and shocks in a plastic chamber that revolved at 25 rpm for 4 min (100 revolutions) to make the impact from a height of six inches with each revolution. Test was carried out for 100 revolutions
Where F = friability,

  Wo = initial weight of the ten tablets

=

final weight of the ten tablets
Disintegration time (in vitro):
For this, 3 tablets of each formulation were used and the disintegration test was conducted at following test conditions,
Apparatus                                      : Disintegration test apparatus
Disintegration medium                  : Distilled water
Frequency of raising and lowering
of basket rack assembly                : 28 to 32 cycles.
Temperature of medium                 : 37±2oC
Wetting Time: A piece of tissue paper folded twice was placed in a small petridish (internal diameter = 6.5cm) containing 10 ml of distilled water. A tablet was placed on the paper and the time for complete wetting of the tablet was measured.
Water absorption ratio: A piece of tissue paper folded twice was placed in a small petridish containing 6ml of distilled water. A tablet was put on the paper and time required for complete wetting was measured. The wetted tablet was then weighed. Water absorption ratio, R, was determined using equation:
R= 100   ×   (Wa-Wb) / Wb
Where, Wa = weight of the tablet before water absorption, Wb = weight of the tablet after water absorption
Uniformity of dispersion: For this, two tablets of each formulation were used. The tablets were dropped into100 ml of water contained in a beaker. The dispersion was stirred to allow complete disintegration of tablets and was then passed through a sieve (sieve no. 22, #710μm).
In-Vitro drug release from dispersible tablets
i) In-Vitro release of Rizatriptan benzoate in 0.1 M HCl
The dispersible tablets of Rizatriptan benzoate were dropped in dissolution medium. Aliquots of solutions were withdrawn at predetermined intervals and were replaced with same volume of dissolution medium at each withdrawal. The aliquots were filtered through whatman filter paper (No.41) and diluted appropriately before recording the absorbances at previously reported λmax value.
ii) In-vitro drug release in distilled water
For this, 2 tablets from each formulation were crushed. A quantity of powder equivalent to 100 mg of Rizatriptan benzoate as well as unmodified Rizatriptan benzoate was accurately weighed and transferred to 10 ml of distilled water in different test tubes. The suspensions were shaken for 60 seconds. Absorbances of filtrates were measured at previously reported λmax value.   
Dimensions: Dimensions viz. diameter and thickness of the tablets were measured using digital vernier caliper.
Hardness: Tested using Monsanto hardness tester
Assay: A quantity of powder equivalent to 100 mg of  Rizatriptan benzoate was accurately weighed and transferred to 100 ml volumetric flask to which small volume of 0.1 M HCl was added to disperse the contents. Final volume was adjusted to 100 ml using 0.1 M HCl. The dispersion was stirred for 2 hrs using magnetic stirrer and then was allowed to settle. Then the solution was filtered through Whatman filter paper (No.41). Appropriate dilution of filtrate was made using 0.1M HC and the UV absorbance was recorded.
 Taste: Evaluation of taste of water dispersible Rizatriptan benzoate tablets by panel of tastes.
Stability testing of water dispersible tablets of taste masked Rizatriptan benzoate
For this, the dispersible tablets of Rizatriptan benzoate prepared using most suitable formulation for masking of bitter taste were selected and stored at the controlled environmental conditions (Temperature 40 ± 20 C and RH 75 ± 5 %) for 45 days. The tablets (in triplicate) were tested at the interval of     every 15 days
Results
Characterization for probable interaction of drug and excipients
Characterization of Rizatriptan Benzoate
a)Organoleptic Characteristic :
UV spectroscopy
Modified drug powders equivalent to 10 mg of Rizatriptan benzoate were dissolved separately in 0.1 M HCl and the final volume was made up to 100 ml. The solutions were appropriately diluted and were scanned in the UV range of 200-400 nm to note the shift in λmax value. However, in case of modified powders of drug resin complex, dried gels prepared with PEG 6000, the acidic solutions were stirred for about 2 hr and the solutions were filtered and the filtrates were appropriately diluted before scanning in the UV range.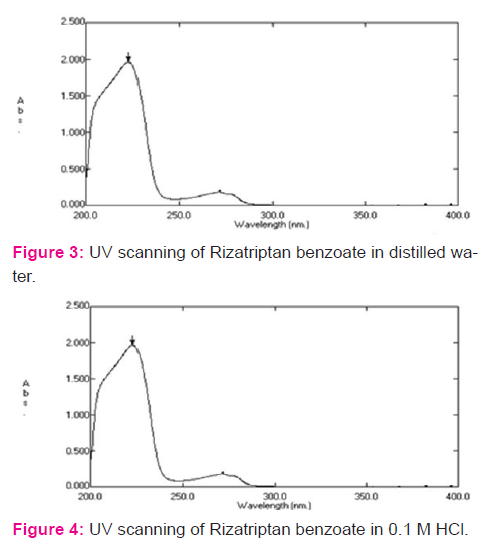 Discussion:
Organoleptic Characteristic:
The Organoleptic characteristic of drug were matching with those reported in the USP
Melting range: From the result it was observed that the melting range of Rizatriptan benzoate has good agreement with those reported in the USP
Saturation Solubility: From the result of saturation solubility it was observed that Rizatriptan benzoate was more soluble in 0.1M HCl in water.
Loss on drying:  From the result it was observed that LOD was within specified limit
Spectrum analysis of Rizatriptan benzoate:
References:
Shyamala B and Narmada G: Rapid dissolving tables; A novel dosage form. The Indian Phrmacist 2002; 13(8): 9-12

Giri K , Tripathi K and Muzumdar R: Formulation aspect in the development of orodispercible tablets: An overview, Int J Pharmacy Pharma Sci 2010;2:38-42

Remeington . The  Science and Practice of Pharmacy, Edition 21,vol. 1,1178-1198

Mizumoto T, Masuda Y, Takeshi Y, Estuo Y and Katsuhide T: Formulation design of a novel fast   disintegrating tablet, Int. J. Pharm  2005; 306(12): 83–90.

Thakur R and Kashi M: An unlimited scope for novel formulations as orally disintegrating

 

systems: : Present and futureprospects, Journal of Applied Pharmaceutical Science 2011;01 (01); 13-19

Amin A F: Emerging Trends In the Development of orally Disintegrating Tablet Technology. Pharmaonfo. net,  2006; 4(1).

Headache Classification Committee. The International Classification of Headache Disorders. Cephalalgia. 2004; 24(Suppl. 1): 9-160.

Waugh A and Grant A. Anatomy and physiology in health and illness. Spain: Churchill living   stone, Elsvier: Edition 10. 2006. 287-288

Suthar A M and  Patel M M: Development of taste masked liquid formulation of  Tinidazol using   ion exchange resin complexes. J of Pharmaceutical Sci and Tech 2010; 2(9):303-7.

Indian Pharmacopoeia, Ministry of Health and Family Welfare. The

Indian Pharmacopoeia Commission, Ghaziabad, India. Vol. I, 2010: 1947-1948.

Stability testing of active pharmaceutical ingredients and finished pharmaceutical products, WHO Technical Report Series, No. 953, 2009

Douglas S J and Bird F R, inventors: Glaxo group limited, assignee. Drug adsorbates. US patent 5219563. 1993 Jun 15.

Bhagawati ST, Hiremath SM and Sreenivas SA: Formulation and Evaluation of Cefadroxil  Dispersible Tablets. The Pharma Review; 2006; 20(4): 136-39.                                                                                   

Itoh A and Niwa T, inventors: Pfizer Inc., assignee. Rapidly releasing and taste masking pharmaceutical dosage form. US patent 6221402. 2001 Apr. 24.

USP 32 , NF 27 , Vol. III, 2009: 2907-2912

 Jadhav SB, Kudewar DR, Kaminwar GS,  Jadhav AB, Kshirsagar RVand Sakarkar DM: Formulation and evaluation of dispersible tablets of Diltiazem hydrochloride.  Int J  Pharm Tech Res 2011;3(3):1314-21.

Sharma N and Telange D: Determination of the concentration blends of superdisintegrant for fast disintegrating tablets. IJPSR 2011; 1(11):2828-35.

Reddy LH, Gosh B and Rajneesh: Fast dissolving drug delivery systems: A review of the  literature. Indian J Pharm Sci;2002; Jul;64(4): 331-336.

ICH, Harmonized Triplicate guideline stability Testing of new drug substances  and products, Q1A(R2), Current Step 4 version , dated 6 February 2003